South Yorkshire police has been given £700,000 of Home Office funding to enable it to continue searching for missing Ben Needham, the force announced today.
Ben went missing on the Greek island of Kos on 24th July 1991 when he was 21 months old. He was on the island with his mother Kerry, who was working in a hotel the day he disappeared, and grandparents who were renovating a house. There has been no trace of him in the intervening 23 years.
There have been several false alarms in the years since Ben's disappearance. In 2012 a mound of earth near where he went missing was excavated but nothing was found. DNA tests of several people who it was thought might be Ben have also proved negative. Regular computer-generated "photographs" of Ben, also used in the Maddie McCann disappearance, have also been unsuccessful.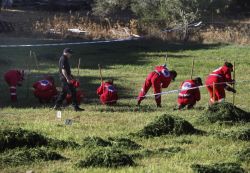 South Yorkshire has investigated Ben's disappearance because the family are based in Sheffield. Last February the force applied to the Home Office for Special Grant Funding to allow the force to continue with its investigation and today it was confirmed the application was successful.
In a statement on the force's webpage South Yorkshire Police and Crime Commissioner Dr Alan Billings said: "Ben's mum, Kerry, has spent more than 23 years searching for her son. I fully support South Yorkshire Police in their ongoing pursuit of the facts. They have worked hard in facilitating the Greek authorities investigation into Ben's disappearance but there is still more work to do. This will be made easier with this additional funding, which will allow further lines of inquiry to be explored."
"South Yorkshire Police has provided support to the Greek authorities wherever requested in assisting with the investigation," added Det Supt Matt Fenwick. "We hope that by continuing to work with them, we can assist in providing the answers Ben's family so desperately want. We will now take time to establish the right investigation team, with a view to the inquiry commencing in April."
The disappearance of Ben has placed the Needham family under unbearable strain. Speaking after hearing the news Kerry, now 43, told The Mirror: "The Home Office and David Cameron personally have said any resources that police require will be given in the search for Madeleine McCann - why is it given to one family why not us?
"I have nothing against the McCann family but why is one family more important than another? It's degrading to us as a family and to South Yorkshire police."