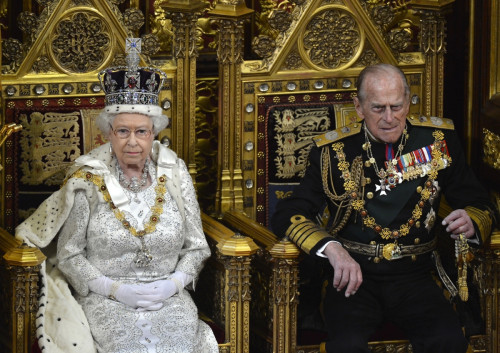 The launch of the Channel 4 programme Benefits Street has stoked growing dissent among a certain clutch of the British public over those on welfare.
However shouldn't our anger and attention be drawn towards the ultimate scroungers - the Royal Family?
While my colleague has already at length revealed the reasons why Benefits Street misrepresents UK welfare and unemployment, shouldn't growing or even misplaced anger be directed at those who automatically claim millions of pounds in funds for just existing and being born into a family that are deemed worthy of being looked after by the state?
While the left-wing press has written reams of copy on the public's hypocrisy - loathing those on welfare despite fawning over the ultimate royal cash-suckers - it is worth noting that at a time of austerity and the 'cost of living crisis' that Queen Elizabeth II and Co. are failing to justify their own state handouts.
Royalists have proverbially patted the Queen on the back for 'tightening' her belt and receiving 'only' £31m (€38m, $51.4m) a year, from the £73m she used to get in 1991.
Since the slash in 2008 following the onset of the credit crisis, much of the negotiating has centred around the so-called critical repairs the royal family needs to make on various buildings that are also open to the public.
In 2009, the royal family pleaded for a bump in their household budget citing repairs to the Royal Mausoleum near Windsor Castle, where Queen Victoria and her husband Prince Albert's tombs are housed, as a 'top priority'.
However parliament's Public Accounts Committee (PAC) highlighted in its latest report that there has been little progress on the repair work.
Five years on, PAC also found that while Queen Elizabeth II's stipend is set to rise to over £36m the Royal family have not bothered to replace 60-year old boilers as well as electrical wiring in Buckingham Palace which has not been renewed since 1949.
Apparently, removing asbestos from the walls is not a top priority for them either.
Taxpayer's Money is Chump Change
Many royal family fans say that £31m is not a lot of money when you have to account for boring overhead costs such as energy bills, food, and travel, let alone cash needed for butlers, chaffeurs, security detail, and maintenance of acres of land.
What people often forget is the huge amount of wealth that the royal family sits on and grows like a golden egg that is topped up with taxpayers' money.
Royal officials state repeatedly that "estimates of the Queen's wealth often mistakenly include items which are held by her as Sovereign on behalf of the nation and are not her private property" but, of course, will not comment on any of the royal family's extra assets.
Last year Wealth-X, a specialist data company that focuses on ultra high-net-worth individuals, released a detailed report on exactly how much the British royals make off, or hold in, assets as well as private ventures.
While Clarence House declined to comment on the report, Wealth-X revealed a number of huge investments that makes the royal family's household budget, siphoned from taxpayer's cash, chump change.
Wealth-X estimated that Queen Elizabeth II has around £362m in cash and a variety of assets, with £78m of that coming from Royal Mail stamps, plus her car, wine, art, and medal collections alone.
She apparently also has £121m in property, £90m in stocks and £109m in cash and other holdings.
But £204,000 of that goes to Prince Philip, presumably for the contribution he makes to the tabloid front pages with his range of 'gaffes' that usually involve culture or race in some way.
But surely the royal household needs that £36m this year for all the events they attend?
Well, Prince Charles surely could help his family out with the £223m he has in property, cash and other holdings. MPs have already remarked that Prince Charles also generates £19m of personal income each year from these assets.
Or maybe the Queen can ask for a little loan from her grandchildren, Prince William and Harry, who have £12m and £9m, respectively.
Isn't it time we ask ourselves who needs welfare and redirect our anger from those who we assume are lazy to those who receive millions automatically because they were born or married into a family that are rich anyway?