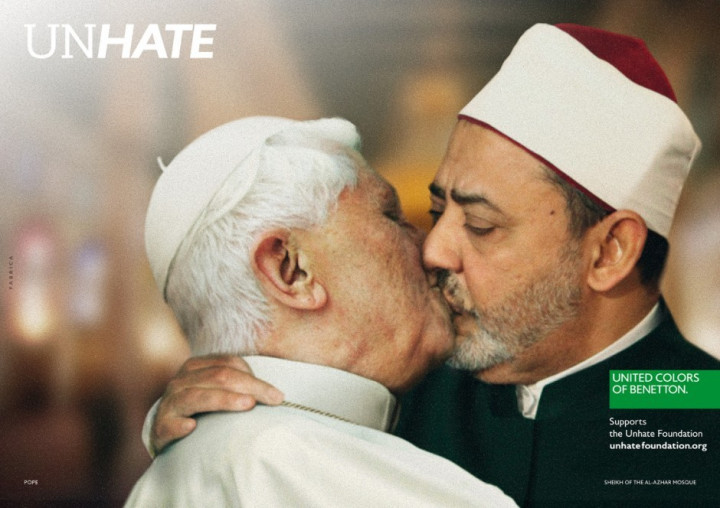 Italian fashion label Benetton has withdrawn a picture showing the Pope kissing a leading imam from its new advertising campaign after the Vatican issued a fierce condemnation.
The company said it was "sorry that the use of the image had so hurt the sensibilities of the faithful".
Benetton's poster, which was briefly hung from a bridge near Rome's Castel Sant'Angelo -- a stone's throw from the Vatican -- showed Pope Benedict XVI kissing on the lips Egypt's Ahmed el Tayyeb, imam of the Al-Azhar Mosque in Cairo and leading voice in Sunni Islam.
Vatican spokesman Father Federico Lombardi called the "manipulative" use of the pope's picture in the photo montage "totally unacceptable".
"This shows a grave lack of respect for the pope, an offence to the feelings of believers, a clear demonstration of how publicity can violate the basic rules of respect for people by attracting attention with provocation."
The Vatican was examining what steps to take "to guarantee a fair defence of respect for the image of the Holy Father", he said.
Benetton had launched Wednesday a new global advertising campaign called UNHATE that included a series of photo montages of political and religious leaders kissing.
It defended the campaign, saying its purpose "was solely to battle the culture of hate in all its forms".
Vatican To Sue Benetton Over Pope-Imam Kissing Ad Picture
Apart from the Pope, the campaign features U.S. President Obama kissing China's Hu Jintao and Venezuelan President Hugo Chávez, French President Nicholas Sarkozy embracing German Chancellor Angela Merkel, Israeli Prime Minister Binyamin Netanyahu kissing Palestinian President Mahmoud Abbas and North Korean dictator Kim Jong-II kissing Lee Myung-bak, South Korean president.
A picture of Silvio Berlusconi kissing Merkel was pulled at the last minute after the Italian premier resigned last week.
As the Wall Street Journal points out, the "Unhate" campaign is the cornerstone of a three-prolonged plan to relaunch Benetton's brand, product and retail network.
In the 1980s, world-renowned photographer Olivero Toscani created for Benetton the first of his multiracial campaigns with the "United Colors of Benetton" slogan. Later on, the Italian brand moved into controversial topics such as AIDS, Gulf War casualties and so on, always with the aid of Toscani.