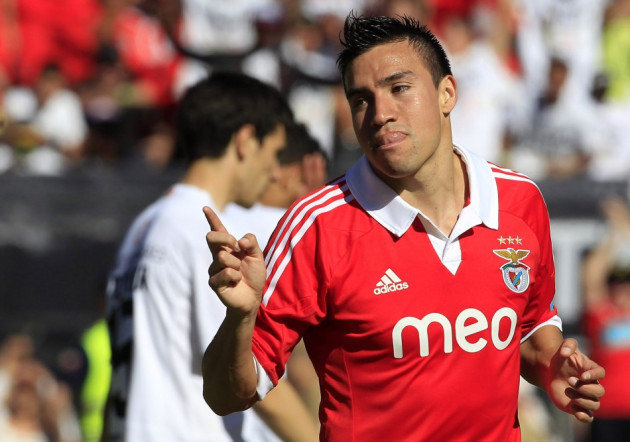 Arsenal are reportedly considering a move for Benfica's Nicolas Gaitan as the Portuguese club prepare to listen to offers for the attacking midfielder.
The Argentine international, who has previously been heavily linked with a move to Manchester United, has indicated to the Portuguese giants that he is ready to leave the Stadium of Light, according to Record, and has his eye on a move to either the Premier League or Serie A.
The 25-year-old has captured the attention of Arsenal, Portuguese reports suggest, and the club could be ready to prove their renewed ambition in the transfer market with a bid for the attacking midfielder.
After barely scraping into fourth position, calls for the Gunners to heavily invest in proven talent this summer have grown louder. Chief executive Ivan Gazidis has promised that the club will be positioned to challenge financially in the transfer market in a bid to put an end to the club's eight year spell without silverware.
And although the Gunners would be likely to have to break their record transfer fee with Gaitan's reported release clause of £40m a potential stumbling block, a move to secure the services of the Benfica star could certainly help the club move in that direction.
Should the club's interest in Gaitan be concrete, the Gunners' hopes of fending off interest from elsewhere across Europe will have been boosted by his agent's recent admission that Gaitan would relish the opportunity to play in the Premier League.
"He would love to play in England, but Spain and Italy also speak to him," the player's agent Jose Iribarren said in late April.
While Arsenal fans have endured frustrating summers where the biggest deals involving the club have involved stars leaving the club rather than joining, Gazidis' recent comments suggest a corner may about to be turned.
While high salaries have often ruled Arsenal out of moves for some of Europe's most coveted stars, that would not seem to be the case this summer. When asked if Arsenal could afford the princely fee of £200,000 a week for a player, Gazidis responded, "Of course we could do that. We could do more than that.
"This year we are beginning to see something we have been planning for some time - the escalation in our financial fire power.
"That is going to happen partly into next season, it is part way available now in the summer, but the following season as well.
"It is a progression over the next two seasons and is quite significant for the club."