The leader of Italy's second-biggest political party has sparked anger after making a terrorist joke about London's first Muslim mayor, Sadiq Khan. Comedian and politician Beppe Grillo was performing at a show in Padua, northern Italy, over the weekend and hailed "Bangladeshi" Khan's mayoral victory.
Khan was born in Britain and his family originated from Pakistan. As he went out of his way to praise Khan's rise, Grillo said it served as a prime example that one must never stop dreaming.
Grillo then added: "Now I want to see when he blows himself up in front of Westminster." The comment by the head of Italy's populist Five Star Movement (M5S) - an anti-establishment party founded by Grillo in 2009 - could prove to be damaging for its own Virginia Raggi as she seeks to become the next mayor of Rome.
Ruling Democratic Party (DP) senator Stefano Esposito asked the leading contender what she thought of the remark by her party leader. "What does Raggi think of the racist insult that her boss directed at the mayor of London? Pretends nothing is going on?" Esposito wrote on Twitter.
DP mayoral candidate, Roberto Giachetti, tweeted: "Grillo did not make me laugh." Giachetti is trailing Raggi in the mayoral race.
"The Five Star Movement is now distinguishing itself for its racism and xenophobia," DP lawmaker Andrea Romano said on 15 May, according to daily newspaper, La Stampa.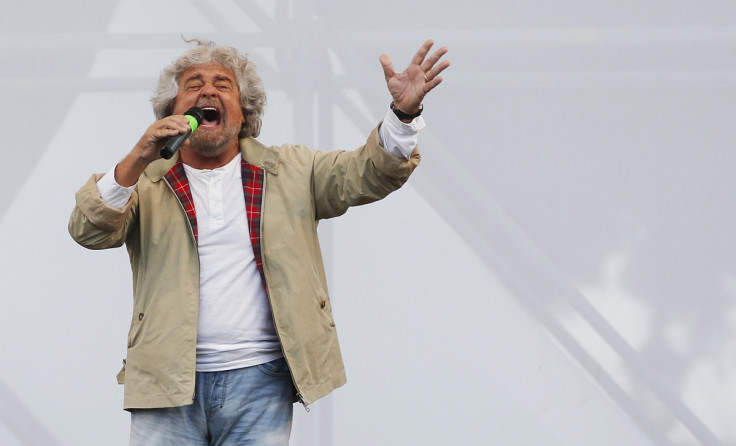 Grillo's remarks could prove to be an issue for Ukip leader, Nigel Farage, who has developed a close relationship with the M5S leader. Speaking last month, Farage said: "I think by going online, by modelling some of what Beppe Grillo has done in Italy, we can make Ukip a big political party."
Recent polls show that about 28% of Italians support Grillo's M5S movement. It is now within five percentage points of Prime Minister Matteo Renzi's PD party, according to the Financial Times.