A teenager who suffered a head injury during anti-government protests in Turkey has died in hospital - after 269 days in a coma.
Berkin Elvan, then 14, was going out to buy bread when he was struck on the head by a teargas canister thrown by police during street battles with demonstrators in Istanbul.
The family announced his death on Twitter: "To our people: we lost our son Berkin Elvan at 7am in the morning. Condolences to us all".
Berkin's death, the eighth during the Gezi Park protests which shook the moderate-Islamist government of Recep Tayyip Erdogan, sparked a new round of protests across the country.
Thousands of students rallied in central Ankara, the capital, and were confronted by police water cannons.
Sit-ins were organised in Istanbul and the Aegean port city of Izmir.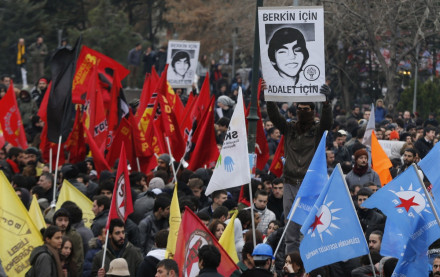 A thousand people gathered outside a Shia Alevi place of worship where Evan's body was to be taken after an autopsy.
The crowd shouted "Murderer state", "Berkin is everywhere, resistance is everywhere" and "Shoulder to shoulder against fascism".
The mother of the teenager said: "It is not Allah who has taken my son away. It is Tayyip Erdoğan".
The unrest in 2013 started as small, peaceful demonstrations in Taksim Square to save Gezi Park, one of Istanbul's few open spaces, from redevelopment. It later mushroomed into anti-government protests against the perceived authoritarianism of premier Recep Tayyip Erdogan.
Nearly two million people have taken part in the protests in 79 of Turkey's 81 cities. The police's heavy-handed response with teargas and water cannons, and in removing the protesters' tent city in Gezi Park, drew international condemnation.
Erdogan repeatedly blamed an "interest rate lobby" and international media for triggering the protests.