Silvio Berlusconi Turns Jail Sentence into Electoral Campaign Ad as Government Crisis Looms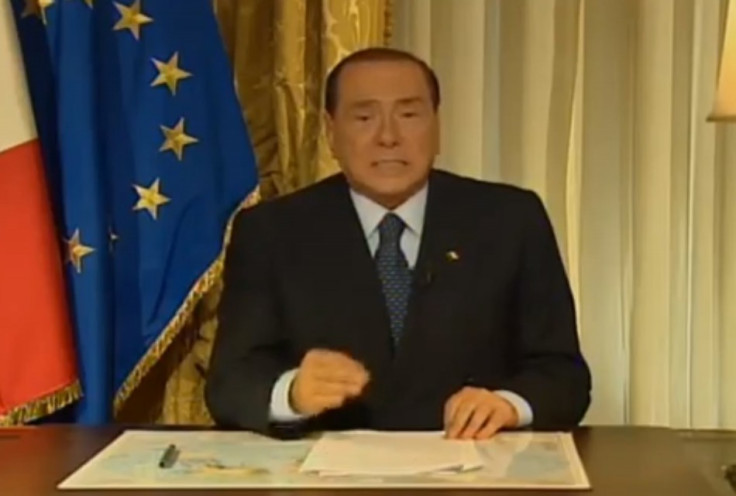 Silvio Berlusconi turned his first definitive criminal conviction into an electoral stunt, as he announced the re-birth of his original political party and urged his supporters to close ranks in a video message that could trigger the end of Italy's coalition government.
Italy's top court upheld a four-year jail sentence for tax fraud against the former Prime Minister, throwing the country into political turmoil.
In an emotional nine-minute address to the nation Berlusconi, 76, said the ruling was "baseless" and denied that his media company Mediaset evaded several million euros in taxes through a system of inflated invoices and slush funds.
Berlusconi, who has long claimed to be the victim of political prosecution by what he dubs "red robes" or "communist judges", called upon voters to give him a parliamentary majority to reform Italy's justice system, which he described as "irresponsible and out-of-control".
"Is this the way Italy awards its best citizens' efforts and commitment? Is it this the Italy we dream of? No, of course not," Berlusconi said.
"We have therefore to keep on fighting for freedom," he said. "We will re-launch Forza Italia and if we stick together we'll get back freedom for ourselves and for our children.
"We'll ask Italians to give us the majority necessary to modernise the country, starting from the most-needed reform - that of justice - to prevent a citizen being deprived of his personal freedom.
"Hurrah Italy, hurrah Forza Italia," Berlusconi concluded.
Forza Italia - Go Italy - was Berlusconi's first political venture and was turned into his current People of Freedom Party (PDL) in 2009.
Berlusconi, 76, has often complained about the decreasing appeal of PDL's brand and the trumpeted return to the Forza Italia domain signals he is getting ready for an electoral campaign.
The centre-right PDL is joined in an uncomfortable coalition government with the leftist Democratic Party (PD). However the judicial reform demanded by Berlusconi is hardly a priority for his party's governing partners.
Some PD activists have even argued that the party should not be in coalition with a party led by a convicted criminal.
PD secretary Guglielmo Epifani said the party expects Berlusconi's conviction to be "abided, executed and applied."
Prime Minister and PD member Enrico Letta said judges' work should be respected but called for calm, urging "a climate of serenity" for the good of the country.
PDL's Nitto Palma also tried to ease tension, saying that "the ruling will not impact on the fate of the government."
However troubles are likely to erupt in full force next week, when the parliament will vote to approve Berlusconi's custodial sentence, as he enjoys partial immunity as a senator.
The vote is likely to polarise political discussion, bringing a final blow to the coalition government.
© Copyright IBTimes 2023. All rights reserved.