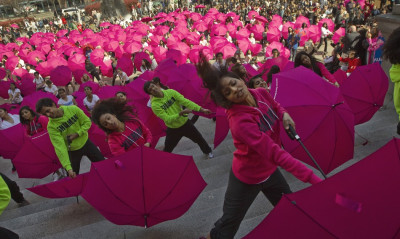 Canada ranks as the best place to be a woman among the G20 nations and India the worst place for a woman to live, according to a latest survey by gender experts.
Efforts to stop violence against women, policies promoting gender equality, access to healthcare, safeguards against violence and exploitation make Canada the best place for women, according to a global poll of 370 gender specialists conducted by the TrustLaw, a legal news service run by Thomson Reuters Foundation.
"Having an understanding of Canadian culture and tracking the work they're doing around violence against women and gender equality, I believe that Canada really has been emerging as a model for what most countries should aspire to for a long time," said Jimmie Briggs, founder of the Man Up Campaign that works to engage youth to stop violence against women and girls.
Germany, Britain, Australia and France make it to the top five among the group of 20 nations while the United States becomes the sixth mainly because of concerns about reproductive rights and affordable healthcare.
India is the worst country to be a woman in the ranking because of the prevalence of social evils such as infanticide, child marriage and slavery.
Though the country is very rich and women are educated, Saudi Arabia is the second worst country in the ranking where driving is banned for women.
"India is incredibly poor, Saudi Arabia is very rich. But there is a commonality and that is that unless you have some special access to privilege, you have a very different future, depending on whether you have an extra X chromosome, or a Y chromosome," Reuters quoted Nicholas Kristof, journalist and co-author of Half the Sky: Turning Oppression into Opportunity for Women Worldwide, commenting on the poll results.
Other worst performers in the list are Indonesia followed by South Africa and Mexico.
Check out the slideshow to know more about the safest and dangerous places to be a woman.