There was an embarrassing stage tumble, a controversial red carpet kiss and some show-stopping performances – of course, it was the hotly anticipated BET Awards 2015.
A star-studded audience, including Rihanna, Tyrese Gibson and Kelly Rowland, watched on as the awards ceremony unfolded at the Microsoft Theatre in Los Angeles on Sunday 28 June.
The night was just as eventful as every other year before, so IBTimes UK has rounded up the biggest highlights from the 2015 bash...
P Diddy falls over on stage
It has not been a great week for the hip hop mogul. It was his first appearance since getting arrested on 22 June so all eyes were watching to see what Diddy did next.
Unfortunately, that was to fall flat on his back in front of the entire audience during the Bad Boy reunion.
The 45 year old was able to laugh at the embarrassing incident and posted on Instagram:
It's a Bad Boy reunion
Diddy falling over was not the only highlight of the performance, as the audience went wild when Bad Boy Records artists past and present reunited on stage for an epic set celebrating the label's 20th anniversary.
Lil Kim, 112, French Montana, Ma$e and even Pharrell Williams were among the acts that reeled out the collective's classic hits.
Even more epic was a video tribute to Diddy's best friend and late legend The Notorious BIG, aka Biggie Smalls, who died in 1997.
Watch the Bad Boy Records reunion:
Nicki Minaj forgets what she won
She won two awards in one night so the Truffle Butter rapper could be forgiven for forgetting exactly which accolade she was accepting.
When collecting her trophy for Viewers' Choice Award, a very confused Minaj asked the audience: "What was this award for? I'm sorry, I was in the back!"
Happens to the best of us!
Empire cast make it Drip, Drop
Anyone who has watched Empire undoubtedly loves to hate Hakeem's infectious single Drip, Drop but the crowd absolutely loved the moment actors Jussie Smollett and Bryshere Y Gray arrived on stage to perform the track.
Priceless moment came when actor Terrence Howard was caught cheering his on-screen sons on from the front row like a proud father.
Rihanna and Floyd Mayweather's front row antics
One person who no doubt appreciated Rihanna duct-taping Mayweather's mouth shut was his rival Manny Pacquiao.
The reason why the FourFiveSeconds singer was carrying the roll of tape remains unknown but the audience found the pair's antics hilarious.
K Michelle and Tamar Braxton bury feud on stage
It had been one of the most unrelenting feuds in R&B but the singers came together in the name of love to bury the hatchet in front of millions of viewers.
Braxton said of her former rival: "Life is all about forgiveness, love, and unity, so tonight, I'm sorry K Michelle, and I also forgive you."
The ladies were then joined by singer Patti LaBelle to celebrate same sex marriages, although their ode was nowhere near as raunchy as Amber Rose and Blac Chyna...
Blac Chyna and Amber Rose celebrate gay marriage
Not only did they wear the same outfits but the best friends shared a kiss in front of photographers to celebrate the newly passed bill that allows same-sex couples to marry nationwide in the US.
Rose told ET of their PDA: "We decided to come together and celebrate the fact that in all 50 states gay marriage is legal.
"And we support the gay and lesbian community so much we decided to be each other's date today."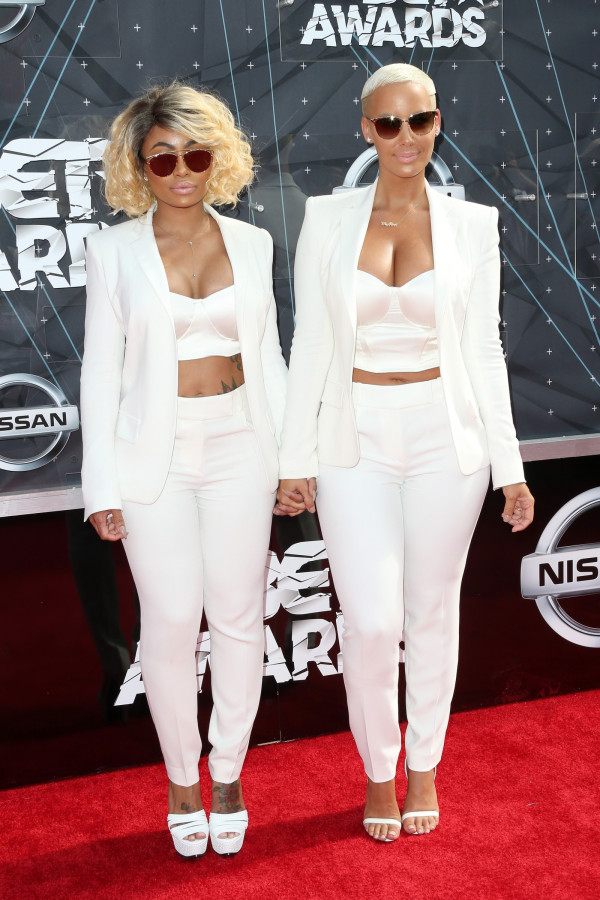 Janet Jackson is honoured by everyone
It was the singer's first high-profile appearance since announcing her musical comeback, so it was only fitting that Jackson was given a warm welcome at the awards.
Ciara, Jason Derulo and Tinashe were among the acts who performed a mash-up of Rhythm Nation and All For You to celebrate her career, while the singer also received the ultimate icon award.
The BET Awards 2015 air on the BET network on 30 June.