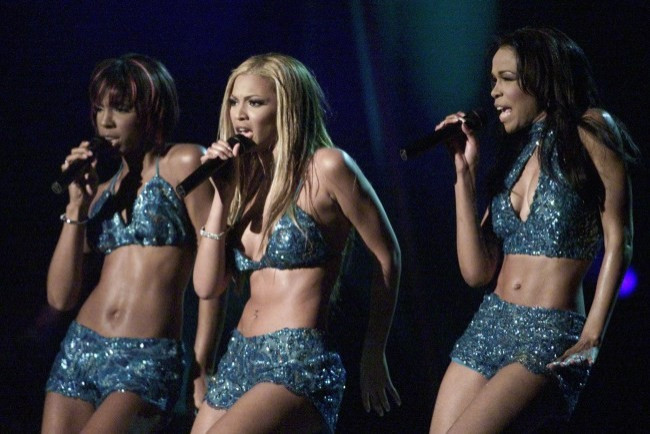 After an eight-year hiatus, Destiny's Child are preparing to make a musical comeback.
Beyoncé has reunited with former bandmates Kelly Rowland and Michelle Williams ahead of her Superbowl performance in February to release a new album.
The 31-year-old Single Ladies star announced the news on her official Facebook page.
"I am so proud to announce the first original Destiny's Child music in eight years," she wrote in block capitals.
The trio have already recorded a new track entitled Nuclear - produced by Pharrell and co-written by Pharrell, Williams, James Fauntleroy and Lonny Bereal - for a collection of their best ballads called Love Songs.
Love Songs will be their first offering since their award-winning album Destiny Fulfilled. The 2004 LP featured hits including Cater To You and Lose My Breath.
One tweet said: "So excited about some new DC music. I must admit I was squealing like a little middle school girl when I saw this on Facebook."
Love Songs will hit shelves in the UK on 28 January and will be released in the US a day later.
At the height of their fame, Destiny's Child earned a string of Billboard and Grammy awards. They split in 2007 to persue solo careers.
Beyoncé will be the star attraction during the Pepsi Super Bowl XLVII halftime show on 3 February. It has been reported that Rowland and Williams could join her on stage to perform some of their greatest hits.
Love Songs Full Track List
1) Cater 2 U (2004 - Destiny Fulfilled)
2) Killing Time (1998 - Destiny's Child)
3) Second Nature (1998 - Destiny's Child)
4) Heaven (2002 - Simply Deep)
5) Now That She's Gone (1999 - The Writing's On The Wall)
6) Brown Eyes (2001 - Survivor)
7) If (2004 - Destiny Fulfilled)
8) Emotion (2001 - Survivor)
9) If You Leave (featuring Next) (1999 - The Writing's On The Wall)
10) TShirt (2004 - Destiny Fulfilled)
11) Temptation (1999 - The Writing's On The Wall)
12) Say My Name (Timbaland remix) (2002 - This Is The Remix)
13) Love (2004 - Destiny Fulfilled)
14) Nuclear (2013)