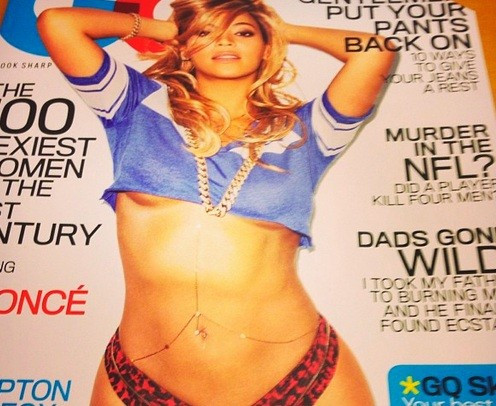 She may be a new mother, but Beyoncé has proved that she is still as sexy as ever after posing for GQ magazine.
The cover of GQ's 100 Sexiest Women of the 21st Century issue, which sees the Single Ladies hitmaker parading her curves in a skimpy outfit, as been leaked online ahead of its February release.
In the snapshot making the rounds online, the 31-year-old superstar, who is married to rapper Jay Z, sports a revealing blue and white crop top and red leopard knickers.
Her stomach appears toned as she puts her hands in her tousled locks and poses seductively for the camera.
She completes the raunchy look with a chunky gold necklace and gold body jewellery.
The singer's cover follows Rihanna's nude cover for the magazine's "Men of the Year" issue.
To celebrate being the first-ever female to be featured on the "Men Of The Year" list, RiRi graced the men's magazine's December cover completely naked.
She gave fans an eyeful of her bare breasts and used her strategically placed hands to protect her modesty.
One fan that saw Beyoncé's' cover wrote: "Beyoncé's cover shoot for GQ Magazine is sexy as f**k."
Another said: "Didn't know Beyoncé was on the cover of GQ and Oh my goodness she put Rihanna to shame."