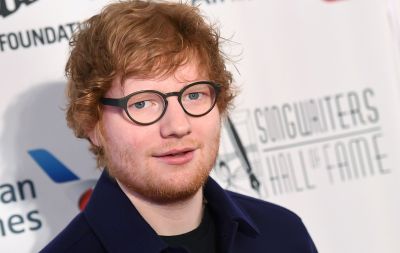 Ed Sheeran has premiered a brand new music video for his collaboration with Afrobeats star, Fuse ODG. The Thinking Out Loud hitmaker dropped the visuals to his track Bibia Be Ye Ye without any warning on Wednesday Night (2 August) and it didn't disappoint.
Shot on location in Ghana by award-winning director Gyo Gyimah, the vibrant promo celebrates the culture of the African nation with close ups of dancing market traders, aerial shots of the stunning landscape and authentic frames. He enlists the help of everyday people to help him sing the song and only makes a brief cameo.
The style of the video is worlds away from the self-shot Galway Girl, which the 26-year-old star premiered back in May.
During his year-long hiatus, Sheeran spent some time in Ghana working with artists like Fuse ODG and R2Bees. The result was Bibia Be Ye Ye, which is sung partly in Twi.
Sheeran announced the premiere of the Bibia Be Ye Ye video on his Instagram page, telling his 14.4 million followers that it was intended to be a "feel good video for people to enjoy."
"I visited Ghana last year to make music with @fuseodg and @killbeatzgh, and whilst there was exposed to such wonderful culture, food, music and scenery," he captioned the 60-second teaser.
"Me and Fuse wanted to showcase all of these things in a music video to show off the beauty of it. This isn't a single, but it's the summer, and why not have a summer song come out with a feel good video for people to enjoy.
He signed off by urging fans to visit Ghana. "It's incredible. Enjoy the video !x"
Fans soon online to show their appreciation with one writing: "Love this song. Makes u feel happy." Another commentator noted that it was "touching and heart warming to see Ed reaching out to other parts of the world and finding inspiration from them :]"
A third added: "Made me want to go Ghana".
Bibia Be Ye Ye is off Sheeran's award-winning third studio album Divide (÷) and means "Everything will be alright" in Twi, the Ghanaian dialect of the Akan language.
Back in 2015, Fuse ODG, whose real name is Nana Richard Abiona, told IBTimes UK that he wanted to work with Sheeran because "My world and his world mixed together is crazy. That's why it's exciting."
Watch Bibia Be Ye Ye featuring Fuse ODG here: