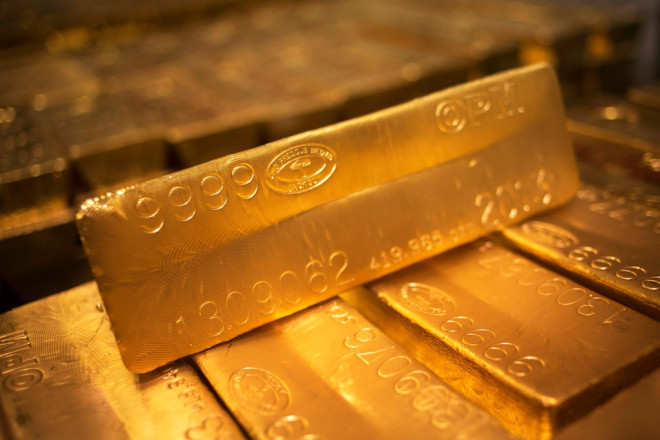 A farmer's wife jailed for burying her husband's body under a rockery stashed away gold worth £50,000 that she bought with benefit money.
Rebekah Sturdey, 56, was sentenced to 20 months imprisonment along with her friend Boqer-Ore Adie after admitting to benefits fraud and conspiracy to prevent the lawful burial of her husband Geoffrey.
She buried him with the help of Adie, 43, her daughter Hazel, 20, and her step-daughter, Karmel Adie, 25, under a garden feature – at twice the depth of a normal grave - after he died suddenly in 2008, a court heard.
The burial on the remote farm near the village of Llwynygroes was in accordance to the family's 'Biblical beliefs'.
But Sturdey continued to claim £57,000 benefits in his name of which £50,000 was gold, found in a sweet tin.
The Department for Work and Pensions became suspicious in 2012 after tens of thousands of pounds in disability allowance and pension credits were paid to Mr Sturdey when he had not been seen for four years.
Mrs Sturdey told investigators he had gone on a holiday around Europe but it was revealed he did not have a valid passport.
A huge search was launched and his body was discovered on the farm West Wales called 'Beth Berin wildlife haven and religious community".
Prosecutor Huw Rees said: "He was buried in a rockery at twice the depth of a normal grave.
"The women later admitted the rockery was the easiest place to bury a body but it was what he wanted. His body was remarkably well preserved and he was identified by his dental records.
"The women were arrested on suspicion of murder but tests showed he had died of natural causes. He had a history of stroke and heart attacks."
Karmel Adie, who admitted conspiracy to prevent the lawful burial, was given a nine-month suspended sentence and ordered to do 120 hours of community work.
Hazel Adie pleaded not guilty which was accepted by the prosecution. She was 15 at the time and was 'under the influence' of the older women.
Christopher James, defending Mrs Sturdey, said: "She respected her husband's wishes for his burial. They did not wish for a post-mortem examination to be carried out. The burial was in accordance with their Biblical beliefs."
Judge Keith Thomas described it as "highly unusual and a unique set of circumstances".
Mr Sturdey's body has been reburied under the rockery.