Bieber fans react with anger after 'hungover' singer 'mimes' V Festival set
'Could've listened to [Bieber]'s CD & stood in a puddle & saved £80,' said one fan.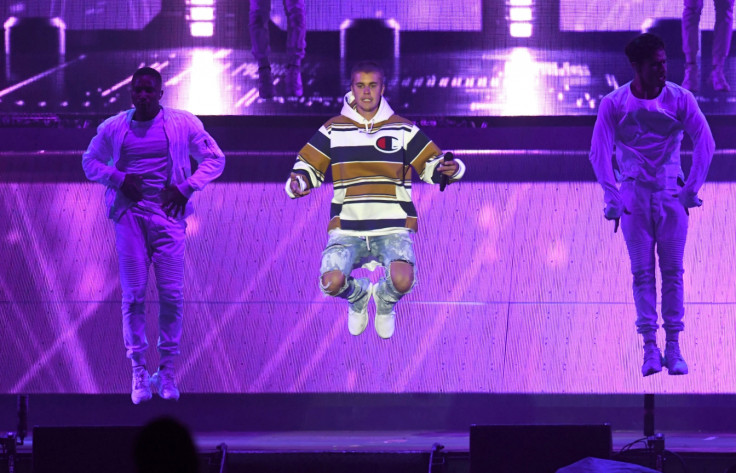 Justin Bieber fans have reacted angrily on social media after the singer appeared to mime during a lacklustre set that marked the first day of the 2016 V Festival.
Bieber started off the performance saying he was "hungover", having been spotted partying with Rihanna the night before.
Fans in the audience at the festival complained on Twitter that Bieber appeared to mime and that they had wasted the ticket price.
Mike Toolan from Manchester said that he "could've listened to [Bieber]'s CD & stood in a puddle & saved £80".
Luke Bowdery from Rochford in Essex echoed his statements but said that he left Bieber's set after two songs – "imagine paying £200 just to watch him mime".
In the crowd at V Festival, IBTimes UK's Alicia Adejobi said that Bieber "didn't even make efforts to hide the fact that he was miming along to a backing track" and that "even his dance routines were sometimes less than full-throttle".
Beth said that she was "disappointed" with the performance – "also don't turn up with a hangover" said tweeted.
A sarcastic Siobhán said that she loved "paying £200 to come to V Festival and see @justinbieber mime his whole set".
V Festival is an annual music festival founded by Richard Branson, held at Hylands Park in Chelmsford and Weston Park in South Staffordshire.
Justin Bieber was the headliner for the Saturday night, while Rihanna will headline Sunday night.
Other acts on over the week include Faithless, David Guetta and Kaiser Chiefs.
© Copyright IBTimes 2023. All rights reserved.