Padella: Catch it when it's quiet but would you really queue?
Aperitivi, Puglian olive oil, kindly Italian servers, it could be such a great, little place.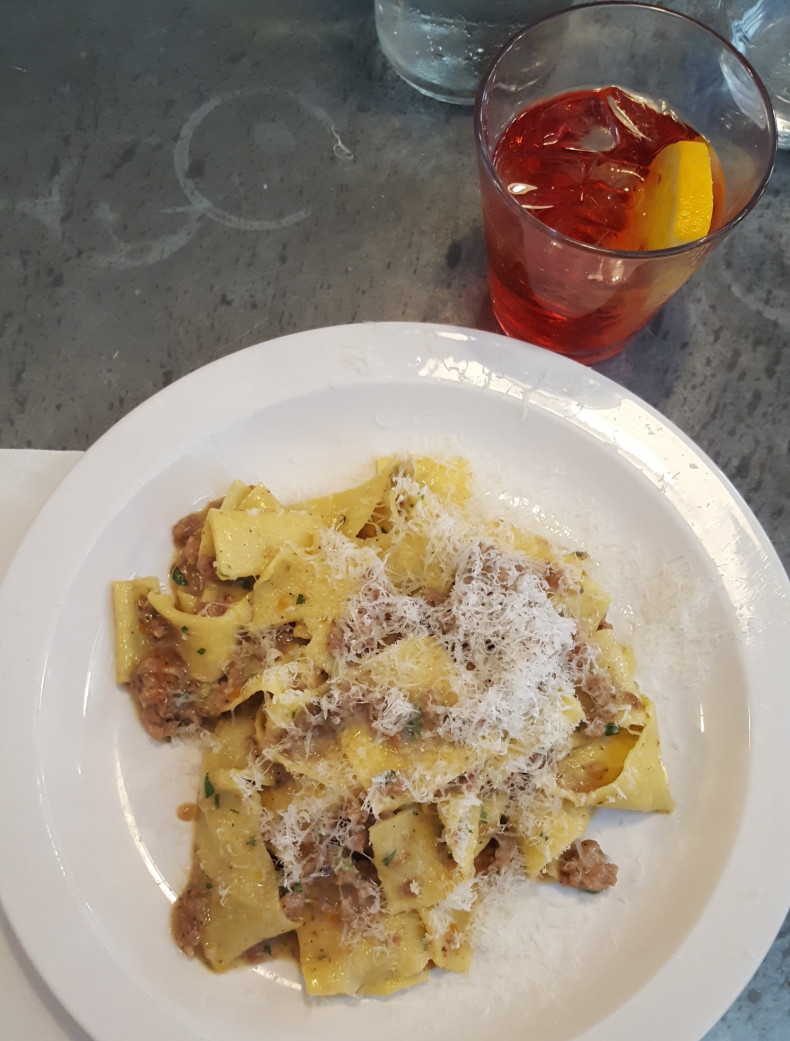 Oh God, the queue. Walking near London Bridge it has been impossible to miss. Borough Market is full of places worth queuing for but Padella has caught the popular attention. In it's fifth month of existence, the interest has yet to wane and there are few times you won't queue – they don't take reservations (but who does these days? So passé) – but if you're a smart person who happens upon this pasta paradise on a late Sunday afternoon, there might just be an open door.
Padella means pan in Italian. That sounds like one of those facts that should be interesting but it's really not – a bit like Padella itself. If everyone is so interested in a restaurant, there should be something to make it really interesting.
It sounds like an unfair start but when you spend a lot of time at restaurants, they start to blend into one, and a starring few stand out. Padella is great, if you were hanging around Borough Market, ready to pop in for a quick aperitivo and pasta plate, it could be one of those places that come into your head, walking with a friend, and make you say 'I'm going to show you a great, little place.'
But thoughts of lining up gets in the way. This Sunday afternoon it's busy but petering out – at other times friends have mentioned feeling hustled in and out, not at all in the spirit of langourous aperitivo.
Everything comes quickly, the short menu is designed to make you feel like you might be in a small town, family owned, Italian restaurant but then little things take you out of this calming mindset. A lot of the seating is around the kitchen area, for example, so you get to watch as your ball of burrata is fished out of a Tupperware box. There's nothing to fault with the burrata, which tastes just as firm-creamy as you want it to and is seamlessly picked up by the homemade sourdough bread, but there's a little bit of style lost when the pageantry dies.
Address - 6 Southwark St, London, SE1 1TQ
Times - Monday to Saturday: 12:00 - 22:00; Sunday 12:00 - 17:00
Website - padella.co
Menus - Here
Prices - Padella sourdough bread & Puglian olive oil - £2; Burrata with Puglian olive oil - £5; Pappardelle with Italian fennel sausage ragu - £8.50; Salted caramel ice cream - £4. Americano cocktail - £5; Caffe Espresso - £2. Total - £26.50.
The pasta – this is the main event of the restaurant, the bit that the press releases are all about – is thrown in front of you by a chef. This one has a fennel sausage ragu kindly covering the pappardelle and is rich and meaty, the fresh pasta tastes gorgeous and, well, fresh – you can feel how much more wholesome and filling it is.
Accompanying this meal enjoyed by two, with one eating, is an Americano and a Negroni, the speed of the food barely giving time for the aperitivi to be aperi (that's not a real Italian word, for the record), but the lulling of Campari bases out the meal with its hard, bitter flicks.
In the end, salt caramel ice cream and some apologies in a friendly, Italian accent – not for the ice cream which was simple and delicious but for forgetting the espresso which arrived later, on the house, so no hard feelings.
It's quieter, in the later afternoon, and sitting at the bar is peaceful. Watching chefs working is meditative and entrancing, not great for a dining partner who keeps having to repeat things as your mind wanders, but relaxing in the Sunday sun. They're getting ready for the later rush, when the calm will be replaced by the hustle and the queues.
Everything's done nicely – when it gets busier the bottom floor will open up and the marble counters fringing the rooms will be full of elbowing couples. The prices are fair too – £2 for a good few slices of sour dough with olive oil; £8.50 for the pappardelle and ragu – they could probably hike them if they wanted, but they haven't.
But still, would you queue?
NOTE: James Tennent ate at Padella anonymously and paid for his own meal.