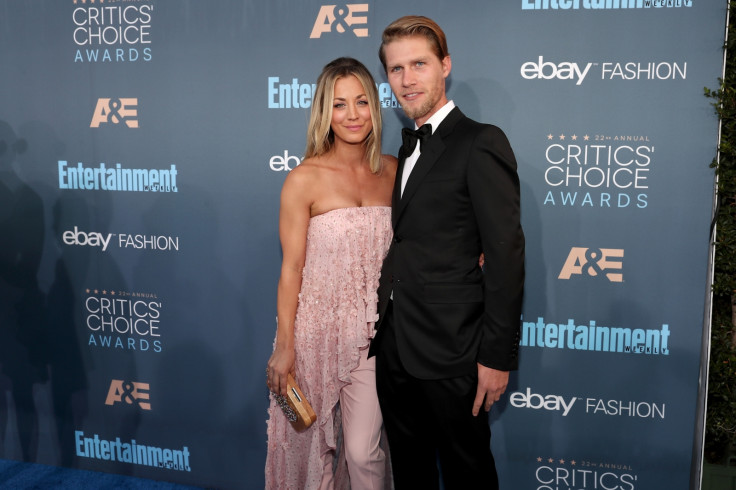 This is Kaley Cuoco and Karl Cook's first Christmas as an engaged couple and they are both making the best of it. The Big Bang Theory actress took to Instagram to share a photo of her and her fiancee in a naughty, nice two-person sweater.
They both are seen flashing a big smile. While Cuoco's side of the red and green sweater says "I have been nice", the equestrian's side says, "I have been naughty."
In the caption, the Penny actress has called her fiancee her "other half". She wrote, "When you are my really reeealllyyyy getting into the holiday spirit!! falalalala lalalala!! @mrtankcook my other half."
The Big Bang Theory fans are loving the couple's adorable post, with many taking to the comments section to bless them. A user wrote, "That's the cutest ugly sweater/sweaters I've ever seen!! Loving that it's just one big sweater it's amazing!" another said, "Omg, hilarious and low key. So happy for y'all.. congrats."
One fan called them "cuteness overload", while another called them "couple goals". A user affectionately wrote, "That's really sticking together through thick and thin."
The sweater covers Cuoco's engagement ring, prompting a social media user to ask, "But how are you supposed to show off that beautiful new ring like that?!?" A user cheekily noted, "Surprised you didn't go to the naughty side. You could show that rock off some more."
The couple recently got engaged after Karl popped the question to his girlfriend of two years at her 32nd birthday dinner. Cook shared a video of the emotional proposal on Instagram in which Cuoco has tears streaming down her face and captioned it saying, "Who knew my prior post was oracular. Well after nearly two years I finally got up the courage to ask her to marry me. This is the best night of my life and I think the video shows it is the best night for Kaley as well.....if she said yes!!!!!"
He later shared a video of the couple dancing to Ed Sheeran's Perfect and called his bride-to-be his "everything". He wrote on Instagram, " In life, there is nothing like dancing right after getting engaged. The purity and grace of the moment are inexplicable, it is truly as though life were a balloon bouncing on the smoothest zephyr. Honey; all I want is to be a balloon bouncing, bobbing, and flowing through life together. You are my everything."
According to a report in People magazine, the CBS star cannot wait to marry Cook. A source told the outlet, "From the beginning, Kaley was crazy about Karl. They have so much in common and he makes her so happy. She went through such a tough time with her divorce from Ryan, but she never gave up on finding love again."
Cuoco was married to former tennis player Ryan Sweeting, but the couple called it quits after just 21 months of marriage in 2015. Following this, Cuoco met Karl at a horse show in 2016, and the couple have been inseparable since.
The source continued, "She's really a romantic! She can't wait to get married — they're both so excited and happy."