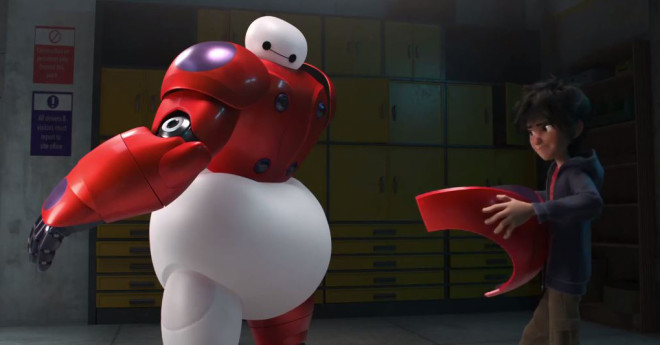 Disney have released the first trailer for their forthcoming animated feature based on a series of Marvel comics.
Big Hero 6 will follow a young inventor and robotics expert as his home city of San Fransokyo is threatened and he must invent and gather a band of heroes to save the day.
With a city called San Fransokyo you can already tell Big Hero 6 is going to be a delightfully silly film, and the first trailer confirms as such.
Little more than a tease, we see hero Hiro (see what they did there) Hamada try to cram his tubby, cuddly robot pal Baymax into a badass new robot hero suit he has built. Showcasing Disney Animation Studios' knack for dialogue-free physical comedy.
Marvel's Big Hero 6 comic series first started in 1998 and targeted a Japanese audience of comic book fans. The group featured a couple of more famous Marvel characters, namely Silver Samurai and Sunfire – who first made their names in the X-Men series.
The forthcoming film will be inspired by the comics and borrows some elements, but will largely be its own creation – most notably in how it marries the Japanese parts of the story with a more Western-market friendly, San Francisco-inspired setting.
Big Hero 6 is set to be directed by Don Hall and Chris Williams of Winnie the Pooh and Bolt respectively. It is set for release in January 2015.