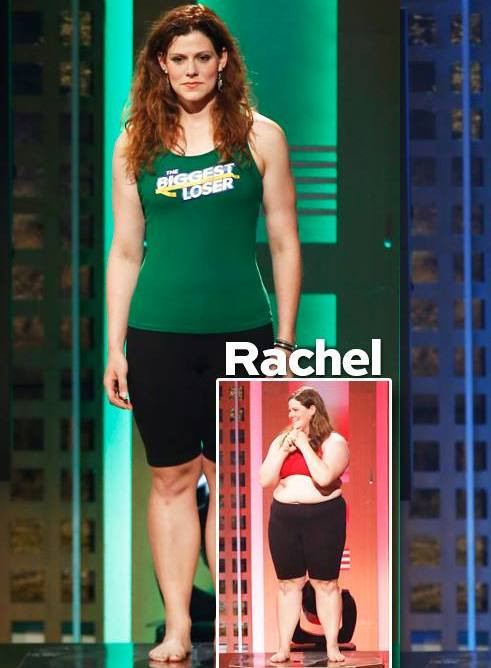 Rachel Frederickson, winner of the NBC reality show, The Biggest Loser has shocked viewers by her dramatic transformation. Her Jaw dropping feat has led to backlash on social media with people questioning the methods she used to lose weight.
According to News.com.au, the 24-year-old alarmed and stunned the viewing public as well as onstage trainers Bob Harper and Jillian Michaels when she unveiled her thin, 105-pound (47kg) frame during the live finale, which aired in the US Tuesday night - a drastic change from when she first appeared on the NBC reality show weighing 260 pounds (118kg).
The Los Angeles voiceover artist was thrilled to lose 59.6 per cent of her body weight, which also won her the show's $US250,000 grand prize.
Her dramatic weight loss, however, has led to criticism that she's now too skinny, with speculations arising as to whether she has an eating disorder, reports The Sydney Morning Herald.
As per a Zap2it report, both trainers Harper and Michaels hurriedly left the NBC set post the show and did not stay to address the press. The following day, the two issued identical statements on their Facebook accounts:
"So here it is," Michaels writes. "Bob and I want to take a moment to congratulate all of the BL contestants on their hard work. We're not comfortable commenting on Rachel's journey because weren't her trainers and weren't given an opportunity to work with her at any point. Any questions about the contestants on the Biggest Loser should be directed to the show's producers."
Frederickson, on the other hand, decided to ignore the backlash and criticism by not addressing the issue at all. Frederickson said that when she looks in the mirror, she sees a strong, confident woman. "I feel great," she said as per the SMH report.
She added that all her weight loss happened under the direct supervision of the show's medical experts and training staff. She credits "super healthy" food choices, "eating five small meals a day" and hitting a calorie count of no more than 1600 calories a day, to her achievement. Her meals reportedly revolved around a perfectly balanced mix of carbs, fat and protein.
In addition, she said, "I worked out a tonne." That included spending her working hours walking at a treadmill desk and then wedging in extra fitness classes and workouts when possible.
Click here to view Fredericks/on's transformation images, featured on Hollywood life.