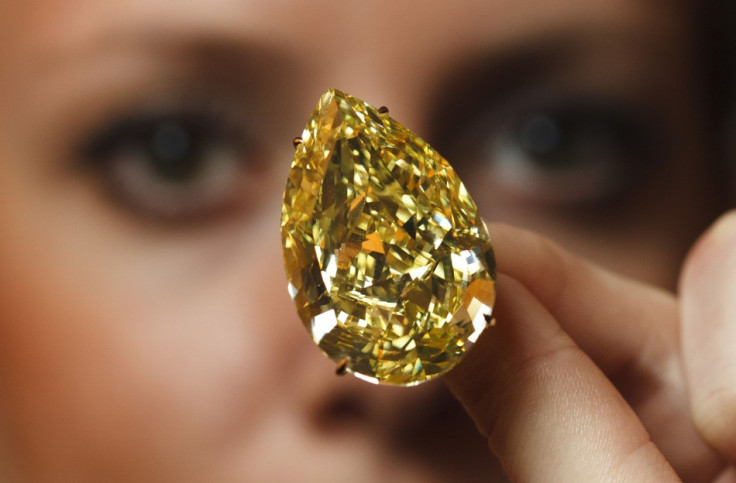 The largest yellow diamond known in existence has been sold for $10.9 million. The auction house, Sotheby's, had estimated that the accurately named Sun-Drop diamond would be valued somewhere between $11 million to $15 million. Including the commission, the winning bidder had to pay in the range of $12 million, making the ballpark value correct.
The pear cut gem was bought Tuesday in Geneva by an unidentified telephone bidder. The diamond was sold by Cora International, a New York-based company that discovered the diamond just last year in South Africa.
Gemologists gave the diamond a rating of 110.3 carats and have said the colour was leaning toward a vivid, fancy yellow -- the highest possible colour grade as well as the rarest. The colour is caused by nitrogen impurities that have hardened together with carbon molecules inside the stone for millions of years. David Bennett, head of Sotheby's jewel division, said it was certainly the highest anyone has ever paid for a yellow diamond at an auction, making the Sun-Drop the eighth most valuable gem the auction house has ever sold.
"When it gets to this price there are only half a dozen people who can actually participate. If they decide they already have a similar stone, then the price doesn't go up," said Mourad Hatik, a Geneva jewel trader. But Hatik is quick to add that a brilliant stone like the Sun-Drop will always attract buyers as there is very little like it in the current market.
The most expensive piece the auction house has ever sold remains the concentrated 24.78 carat pink diamond valued at $46 million in the previous year. The sale broke all records with regards to diamond dealings, even if many experts expected the diamond to fetch a steeper price.