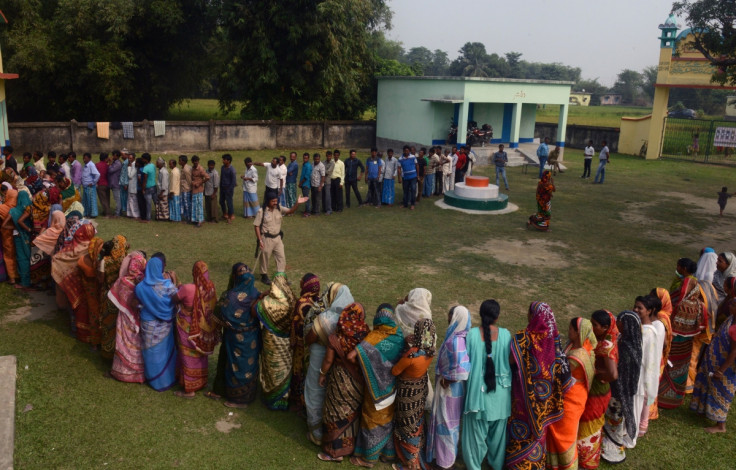 Five-phase polling in assembly elections for the Indian state of Bihar came to an end on Thursday (5 November). Exit polls have predicted a close fight between Chief Minister Nitish Kumar and Prime Minister Narendra Modi, however many took to Twitter to dismiss Modi's chances of a victory.
Despite the results not being announced until 8 November, the hashtag #BiharDumpsModi was trending across the country shortly after exit polls were revealed. Many took to Twitter to express their certainty at the fact that the prime minister had been "rejected" by the state, with some citing his expected loss in Bihar as the beginning of the hashtag "India Dumps Modi".
Modi's Bharatiya Janata Party (BJP) faces a coalition of two local parties led by current and former chief ministers of the state, Nitish Kumar and Laloo Prasad Yadav. Opposition party Congress also forms a part of the Grand Coalition. A poll of exit polls indicated the grand Coalition has secured 118 seats, with the BJP and its allies securing one less seat at 117 in the 243-member assembly. A party needs 122 seats to form a majority government in the state.
A record voter turnout of 57% was seen during the Bihar election in 2015, compared with a 53% turnout in the state's last election in 2010. Women are said to have turned out in higher numbers than men through all phases of voting.
Falling popularity?
The elections are being seen as a referendum on Modi's popularity ahead of his visit to the UK on 12 November. A BJP win would greatly affect India's opposition parties, who were badly defeated by Modi's party during the 2014 general elections. A Bihar state election win would also mean the BJP would gain more seats in the upper house of parliament, where it currently lacks a majority. As a minority in the upper house, the governing party has struggled to pass key legislation and economic reforms.
The prime minister's party has also come under controversy during the past few weeks over attempts to ban cow slaughter in the country. Hindus consider the animals sacred and several BJP-ruling states have begun tightening laws to ban beef consumption, which has created tension between religious groups. A number of Hindu mobs have been accused of violence against Muslim men who were alleged to be eating beef.
On the day exit polls closed in Bihar, the media began to report on an incident in which a Hindu mob beat a Muslim man to death for allegedly stealing a calf. The incident took place in the north-eastern state of Manipur and followed similar incidents that were witnessed on the outskirts of the capital city, New Delhi.
Modi's party has also been facing increasing backlash from high-profile writers, film-makers and scientists, who have been returning state awards in protest over "rising intolerance" under BJP rule. Many others have joined them in calling on the prime minister to address the recent killings, with protests also being organised in the UK during Modi's visit to meet David Cameron and the Queen.