India beef ban: Muslim beaten to death by Hindu mob for 'stealing a cow' in Manipur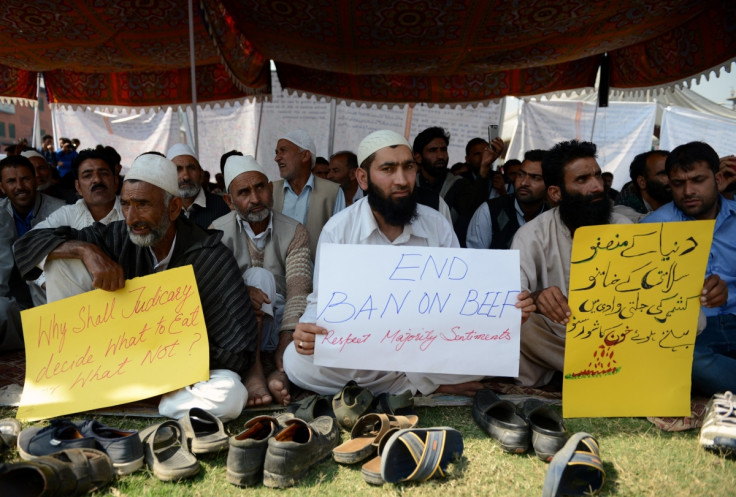 An Indian Muslim was beaten to death by a Hindu mob who believed he had stolen a calf. The incident took place in a remote village in Manipur, a north-east state in India.
The bloodied body of Mohammad Hasmat Ali was found 5km away from his home, with news of his death on 2 November not reaching the media until two days later. The 55-year-old headmaster had no criminal record or known links to the cattle business, according to police officials.
Naba Kanta, a senior police officer, told the New York Times: "What is happening here is completely wrong – people taking the law into their hands. We face the problem of mob justice in this area, and we are trying to do our best to contain it."
The recent killing comes amid ongoing unrest over laws that are being emplaced in the country to protect cows from slaughter and consumption. Prime Minister Narendra Modi's Hindu nationalist party, the Bharatiya Janata Party (BJP), has pushed to pass laws banning beef in a number of states, causing uproar among other religious groups.
Several cases of violence have come to light involving Hindu mobs targeting people they suspect could be harming cows. One of the most high-profile cases involved the lynching of a Muslim man in Dadri on the outskirts of capital city New Delhi. Mohammad Akhlaq, 50, was beaten to death by a suspected Hindu mob on 28 September for storing and eating beef. However, a forensic test later revealed that the meat stored in his home was goat meat.
More recently a Muslim man was killed by another suspected Hindu mob who accused him of smuggling cattle for slaughter. The incident took place in the northern state of Himachal Pradesh on 14 October, just a few weeks after a Hindu mob threw a home-made bomb at a truck suspected of carrying beef in the Kashmir Valley.
Indian states are allowed to impose their own laws on the slaughter of cattle. While cows are considered holy by many Hindus, who form the majority of India's population, beef is eaten by many of the country's Muslim and Christian populations, as well as a number of Hindus. Prime Minister Modi has been criticised by many for remaining largely silent on the attacks, although he urged members of his party not to make "irresponsible statements" regarding the sensitive topic.
India is the world's top beef exporter despite ban on cow slaughter
India's exports of beef are said to be on the rise, according to a report released by the US Department of Agriculture in April. India has been the largest exporter of beef in the world since 2014, despite the slaughter of cows being banned in several Indian states.
This is explained by the fact that India's exports are composed entirely of water-buffalo meat or carabeef meat, which means that the bans do not affect the country's beef exports. In October India began to set up laboratories at ports to ensure that the meat being exported is not cow meet and that no cows have been slaughtered.
It is believed that India will export 2.4m tonnes of beef in 2015.
© Copyright IBTimes 2023. All rights reserved.