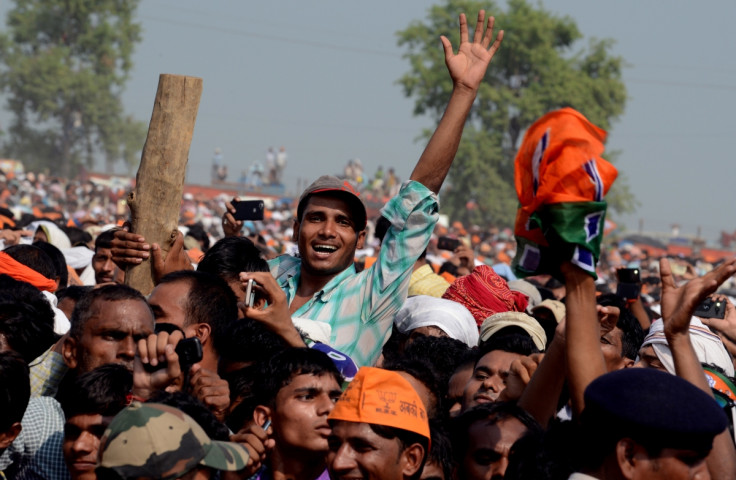 Thousands of voters have begun lining up at poll stations in the east Indian state of Bihar for elections that are being seen as a referendum on Prime Minister Modi's popularity. More than 13.5 million people are expected to vote for the legislative assembly with Modi's Bharatiya Janata Party (BJP) facing the challenge of a "grand coalition". Analysts say that a victory for Modi's party would signify the approval and acceptance of the right-wing Hindu nationalist party.
The BJP faces a coalition of two local parties led by former chief ministers of the state, Nitish Kumar and Laloo Prasad Yadav. Polls opened on 12 October in the first of five phases and will close on 5 November, after which results will be counted on 8 November. The elections determine who will rule Bihar for the next five years and opinion polls have indicated that the race is extremely close.
Modi addressed the people of Bihar during an election rally last week, urging them to vote for the BJP. He is said to be holding at least 20 public meetings over the next few weeks as he campaigns for his party. Bihar, one of India's poorest states, will be a determining factor for the prime minister's policies.
"A BJP government in Bihar will help us work seamlessly to create jobs for the youth, look after our farmers and ensure overall development, which is the antidote to every single problem," Modi told voters at an election rally last week. Local broadcasting channel NDTV reported that 33.13% of Bihar voters had already cast their votes by 12pm (IST) on Monday 12 October. Prime Minister Modi took to Twitter shortly after polls opened urging the people of Bihar to go to vote, particularly the young demographic.
A BJP win will greatly affect India's opposition parties, who were badly defeated by Modi's party during last year's general elections. A Bihar state election win would also mean that the BJP would gain more seats in the upper house of parliament, where they currently lack a majority. As a minority in the upper house, the governing party has struggled to pass key legislation and economic reforms.
Despite pledges of economic growth and development, the prime minister's party has come under controversy during the last few weeks over attempts to ban cow slaughter in the country. Hindus consider cows sacred and several BJP-ruling states have begun tightening laws to ban beef consumption, which has created tension between religious groups. In late September a man was killed by a Hindu mob in the northern state of Uttar Pradesh after he allegedly ate beef. A Muslim legislator was also attacked in Jammu & Kashmir's legislative house by BJP legislators after he threw a "beef party".