A collection of human bones dating back around 3,000 years has been discovered on a beach in Argentina. Two quad bike riders came across the remains as they rode their vehicles near Colombo beach in the Valdes Peninsula of the southern Patagonia region.
Adrian Garcia and his brother Ricardo were in a restricted area of the beach when they saw the bones scattered across the sand. Some of them were still inside plastic bags that had been left at the spot.
"There was nobody at all on the beach. We saw tracks of pick-up trucks ... and moved forward with the quads. Then we found the skulls," Adrian told local broadcaster Todo Noticias.
The brothers presumed that the bones belonged to victims of Argentina's 1976-83 dictatorship, but police later confirmed that they were in fact thousands of years older.
The Chubut police chief said the remains had been taken to the National Centre of Patagonia (CENPAT) where they would be examined further by anthropologists. He claimed they dated back to a time before the birth of Christ.
National news agency Telam reported that the skeletons were those of the Tehuelche people, an indigenous nomadic hunter-gatherer group which had settled in Patagonia 12,000 years ago.
Nestor Garcia, a director charged with the conservation of protected areas in Patagonia's Chubut province, confirmed that the bones were not part of a new discovery but had been intentionally buried on the beach. He said scientists had analysed the remains 11 years ago following which they reburied them in the sand "to respect the wishes" of the Tehuelches who had created a cemetery there.
The winds may have been responsible for uncovering the bones but now, there are concerns over the careless way in which they were reburied in the first place. The issue has been reported to the Directorate of Protected Areas and Native Peoples.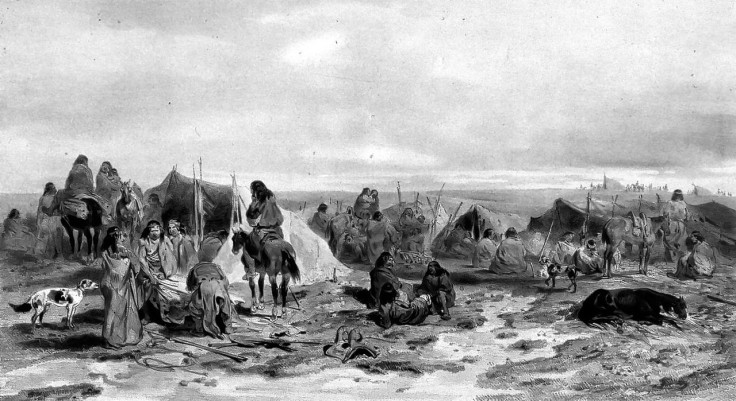 Who are the Tehuelche people?
The Tehuelche are an indigenous group local to the Patagonian region of Argentina and Chile. The name is coined from the Mapuche language and means "fierce people" or "brave people".
They spent their winters fishing in the lowlands and in the summer ventured higher up towards the Andes in search of game. In the early 16<sup>th century, Spanish explorers landed in the region and in 1520, the Portuguese explorer Ferdinand Magellan made contact with the Tehuelche people.
Some records describe them as a race of giant people. This may have been because of the large prints they left behind from the guanaco leather boots the Tehuelche used.
They believed in a supreme spiritual being known as Kooch who was responsible for ruling the entire cosmos. Elal was recognised as the creator of man.
At the other end, the evil Gualichu roamed the underworld and was the cause of trouble.