Yoga guru Bikram Choudhury has been accused of rape by two women in separate cases filed at the Superior Court in Los Angeles.
The founder of Bikram Yoga is accused of raping two of his students at his training centre while they were learning to become yoga instructors.
One woman has accused Choudhury of sexual battery, false imprisonment, discrimination, harassment and a number of other counts, reports Courthouse News Service.
She said the 67-year-old tycoon raped her in November 2010. Her boyfriend had paid for her to be trained at the Bikram Yoga studio in San Diego as a gift.
The woman claims members of Choudhury's inner circle knew of his plans to sexually assault women in the centre. She said there is a cult-like environment at the centre, meaning young women are vulnerable to assault or rape.
In her complaint, the woman says she was initially flattered by the "special attention" she received from Choudhury, but became uncomfortable when he began to make sexual advances towards her.
On 18 November, she claims Choudhury invited her to his room to discuss a job offer. The complaint states: "Defendant Bikram Choudhury said he saw himself in plaintiff (he had said that to her before) and that, 'I need to spiritually enlighten you. In order to do that, we need to become one'.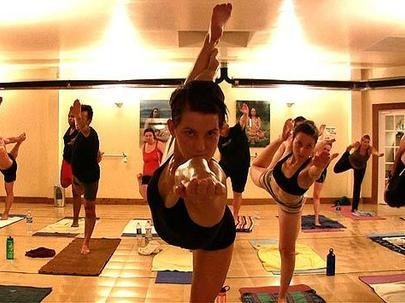 "Then, without warning or consent, defendant Bikram Choudhury forcefully pulled plaintiff towards him and had one hand around her and the other was unbuttoning her jeans. He hooked his hand at the top of her pants and tried to pull them down with force."
After trying to fight him off, Choudhury allegedly forced her into his bedroom and onto the bed: "Plaintiff Jane Doe No.2 could not stop crying and kept begging him over and over to stop. He forced his unprotected penis in her vagina. Within moments it was over.
"The only thing defendant Bikram Choudhury said was, 'How many times did you come?' Plaintiff Jane Doe No.2 was in pain, in shock and could not speak. Defendant Bikram Choudhury then ordered plaintiff to watch him until he fell asleep."
The woman says no one at the centre helped her, with one instructor telling her: "We all know how Bikram is, that's just part of it."
The other woman who has accused Choudhury of rape says he attacked her twice. Both are being represented by Shea Law Offices.
In March, Choudhury faced a lawsuit brought about by another former student , who sued him for sexual harassment and discrimination.
She claimed Choudhury pursued her sexually for years and because she refused, he ruined her career. Choudhury denied all the charges.