The founder of Bikram yoga is being sued for sexual harassment and discrimination by a former student who claims he made women brush his hair, give him massages and have sex with him.
Bikram Choudhury is accused of telling the student that he hated his wife so she would have sex with him, the New York Post reports.
She filed the suit at the Los Angeles Superior Court earlier his month. She claims Choudhury, 67, pursued her for years and ruined her career as a Bikram yoga teacher when she refused to have sex with him.
Bikram yoga involves practicing traditional routines but at very hot temperatures. Famous practitioners include David Beckham, Andy Murray, Madonna, George Clooney and Beyonce Knowles.
Choudhury reportedly told his student: "My wife is such a bitch, you have no idea. She is terrible to me. She is so mean. You have to save me."
The woman said she noticed something was wrong soon after starting Bikram classes, as her instructor would choose the most devoted students to "brush his hair and massage his body".
Allegedly, Choudhury first propositioned his student in 2005 at a teacher training seminar, telling her: "I know you from a past life. We have a connection. It is amazing. Should we make this a relationship?"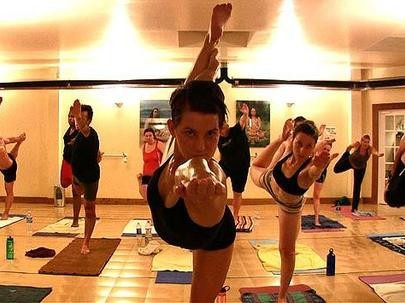 She refused and avoided Choudhury but his pursuit continued. She says that on one occasion, he pushed her "down toward the floor after pulling her arm and leg apart and opening her body. [He]pressed his body into hers and began whispering sexual things [until] she collapsed into sobs".
He is also said to have rigged a yoga competition in 2008 so she did not win - the winner was sharing Choudhury's hotel room at the time.
A profile on Choudhury in Details magazine, published two years ago, refers to a number of women brushing his hair.
The author wrote after attending one of Choudhury's classes: "Only the best, bravest, and most beautiful practice at the feet of the guru, who sits cross-legged on a giant inflatable leather throne against the back wall. He's in a black Speedo, bare-chested, his hair tied in a topknot. His triceps stand out like pistons. Sometimes a woman will brush his hair or wash and massage his feet.
"There are the stories about him having sex with his students. When I ask him about this, he doesn't deny it - he claims they blackmail him: 'Only when they give me no choice! If they say to me, 'Boss, you must fuck me or I will kill myself,' then I do it! Think if I don't! The karma!'"
Choudhury, who is estimated to be worth around £4.6m, has not commented on the case.