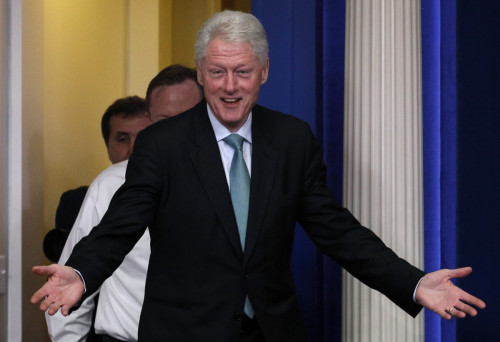 Update: Elizabeth Hurley has denied reports that she had a year-long affair with former US President Bill Clinton in 1998. She called the story "ludicrous" before saying that her lawyers were looking into it.
Original Story: Former US President and actress Elizabeth Hurley had a year-long affair according to reports emerging in the US.
Radar Online's report cites a recording of Hurley's former boyfriend Tom Sizemore, who says he arranged secret romantic meetings between the pair following his split from her.
Sizemore claims he set up the rendezvous following a private screening of Saving Private Ryan at the White House in 1998 also attended by Tom Hanks and Matt Damon.
Clinton allegedly pulled Sizemore away from the crowd and asked whether he still had Hurley's phone number before taking out his phone and saying: "Give it to me?".
Sizemore says he suggested he ask Hurley first but the then-President wasn't having any of it. "You dumb motherf**ker. I'm the Commander-in-Chief of the United States of America. The buck stops here. Give me the damn number," he allegedly said.
The actor described Clinton as "6ft 4 with more charisma than 1,000 Brad Pitts".
On the phone to Hurley, Sizemore says Clinton was less than patient. "Listen Elizabeth, this is the President," he said. "I don't have any time for this s**t. I'm keeping the world from nuclear war all the time. I'm sending a plane to pick you up."
It is also claimed Clinton broke off the affair when he feared he was falling in love with the British model and sent a private jet to fly her to Washington DC.
Clinton's extramarital exploits are well documented, he almost never became US President after one affair came to light and the Monica Lewinski revelations almost saw him impeached.