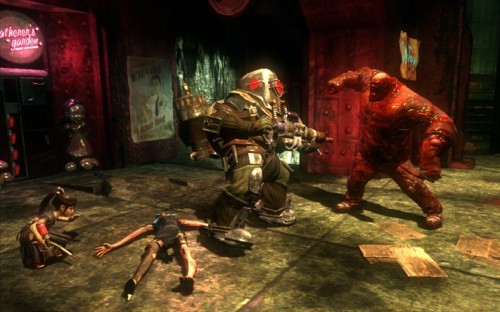 Great news for Mac gamers. "Bioshock 2" has finally descended into the Mac gaming world, nearly two years after its PC debut. This should bring joy and relief to Mac users, who were earlier denied the chance to play this awesome game!
Thanks to Feral Interactive, the game has finally made its way to the Mac App Store and has been priced at $30.99. The game also adds the multiplayer platform, which will be the icing on the cake.
Feral is dedicated to offer major game titles to Mac users and has bolstered the Mac App Store by leaps and bounds. The company already sells a Mac version of BioShock 1, among a number of other titles.
The storyline as cited on BioShock Web site runs as follows:
"Welcome back to Rapture. Paradise reborn.
Deep within the ruined undersea city of Rapture, your beloved Little Sister, Eleanor, awaits your return. As her Big Daddy, you protected her from a world of insanely selfish adults, now you must shield her again from those who demand that everything must be shared.
Ten years after the events of BioShock, Rapture has fallen under the control of a collectivist cult who plan to transform Eleanor into a genetically-engineered messiah, who will put an end to individuality forever. To save her, you must deploy a unique combination of shooting, role-play and stealth as you rampage through Rapture's leaking halls to confront her captors.
Whether you choose to forgive those who threaten Eleanor or wreak vengeance upon them, remember, she is always watching and will follow your example."
Minimum System Requirements:
Processor: 2.0GHz
RAM: 4GB; Graphics: 256MB
Hard Drive Space: 10GB.
The following graphics cards are not supported: ATI X1xxx series, ATI HD2xxx series, NVIDIA 9400, NVIDIA 7xxx series and Intel GMA series.
Direct Links:
BioShock 2 is available for $30.99 on the Mac App Store. [Direct Link]
BioShock 1 is also available for $29.99. [Direct Link]
MUST READ: 'Mass Effect 3' Ending Controversy: How to Get the Best Possible Ending and the Missing Pieces? [SPOILERS]
MUST READ: 'Skyrim' and 'Witcher 2' Feed Off Each Other to Promote RPGs