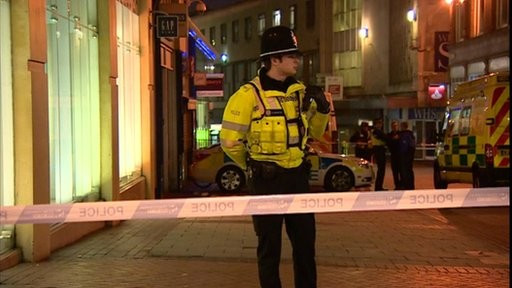 Both men murdered in a double stabbing in Birmingham city centre were Big Issue vendors, the magazine's founder has confirmed.
Police are investigating whether the two victims, both in their 30s and both thought to have been homeless, were killed in a row over money, or after a dispute over licences to sell the magazine.
The victims have both been identified by police, but their details are not being released at this stage. A 23-year-old man has been arrested and is being held in custody.
Hundreds of people are thought to have witnessed the incident, which occurred shortly before 6pm on Friday 11 January, with many fleeing the scene in panic.
Witnesses described seeing police officers and security guards pursuing a man covered in blood through crowded streets.
The first victim was stabbed outside a Sainsbury's store on Martineau Place, while the second was found slumped outside the entrance to Boots in nearby Union Street.
Officers attempted first aid, but both men were pronounced dead at the scene.
A 23-year-old man was arrested minutes after the incident in New Street, near the Odeon cinema.
"Everyone at The Big Issue has been deeply saddened to hear the tragic news that two of our well-liked Birmingham based vendors were stabbed to death in the city centre yesterday evening," the magazine's founder and Editor-in-Chief John Bird said. "We are struggling to make any sense of this utterly senseless attack, and our sincerest condolences go out to the families of the victims.
"This awful crime, perpetrated against two hard working, mild mannered men, only serves to illustrate the extreme vulnerability of people who live and work on the streets. We at the Big Issue are constantly striving to create opportunities which will help our vendors to get off the streets and out of harm's way. We are truly devastated that these two individuals have been deprived of just such a future."
Gina Lycett of West Midlands Police said, "One of the lines of inquiry that we are pursuing is that one of the victims was a Big Issue seller."
"Both victims were frequent visitors to Birmingham city centre, and were known to spend much time in the area.
"Both victims have been identified, and police are working to locate their families and next of kin before their identities can be released. Post-mortems are being conducted."
However, one witness, who did not want to be named, identified one of the victims as being named Wayne.
"The two victims are quite well known around here - one of them sold the Big Issue on Union Street, and I've seen them around a bit," said the witness, who is a stallholder on Union Street.
"I think one of them was called Wayne. He seemed like a nice guy, and always smiled and said hello to me.
"It's really sad that someone's life would end like that. We've heard that they owed money to someone."
He described a scene of "huge panic" immediately after the incident.
"People started running away, and there were two guys collapsed on the street. Some people ran into Burger King because no one knew what was going on and they were frightened.
"Within minutes, there were police everywhere, and they were trying to revive them both."
Inspector David Keen said: "Two men have suffered fatal injuries. These have been inflicted in the heart of the city at a busy time when workers and shoppers would be heading home.
"There are potentially hundreds of witnesses, either people who saw the stabbings or the offender leaving the scene, and I'd urge people to get in touch immediately They could have vital information."
Forensic teams cordoned off several scenes in and around Union Street.
A woman who runs a stall near the Sainsbury's store and did not want to be named, told Sky News that she believed she knew the victims, and that both were homeless men. "If it's who I think it is, they've been around here for a while. They were homeless and two lovely men.
"One of them had a dog called Scooby who I used to bring titbits for. I can't believe they're both dead."
A woman who works in an optician next to the Odeon cinema said she saw a man rush past with blood on his hands and clothes, as police and security guards gave chase.
She told the Mail Online: "The man ran in to the cinema followed by lots of police and security guards. There was no screams or shouts. I saw blood on his hands and clothes."'
Another man, whose shop overlooks the store, said: "I heard there had been a row in the morning and then a bloke had gone back and stabbed them both."
A Big Issue vendor who works on nearby New Street and identified himself only as Graeme, said: "I didn't know the men who were killed personally, but it is very upsetting.
"I hope whoever did this to them is brought to justice. Nobody deserves to be stabbed to death."
A spokeswoman for West Midlands Ambulance Service said: "Crews arrived to find two men who had been stabbed and were being given excellent first aid by police officers and passers-by.
"Both men went into cardiac arrest. Crews and the team of medics administered advanced life support to both men but, sadly, despite their best efforts, nothing could be done to save them and they were confirmed dead on scene."
Supt Richard Moore, the head of policing for Birmingham city centre, appealed for witnesses. "There were lots of people around at this time who may have seen the incident or the offender leave the scene I am urging people to come forward at their earliest opportunity as they may have vital information," he said.
A number of people have already come forward with information, but police renewed their appeals for witnesses on Saturday 12 January.
Extra patrols will take place in the city centre throughout the weekend, police confirmed.
Anyone with information should call police on 101.