Birmingham Thug Jason Wilson Squirted Lemon Juice In Bus Passenger's Eyes [VIDEO]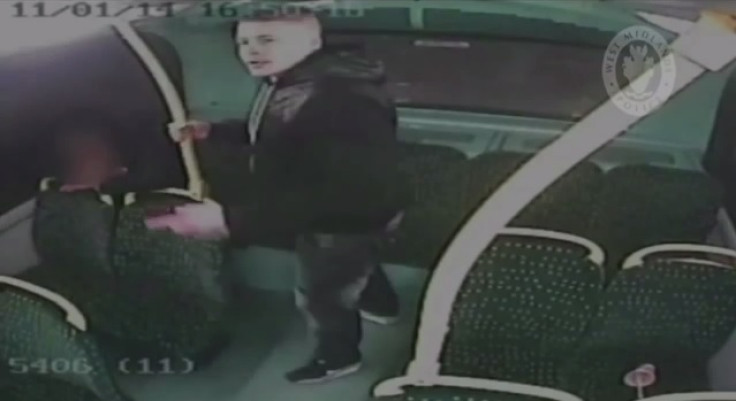 A violent thug who squeezed lemon juice into the eyes of a Birmingham bus passenger has been jailed for the brutal outburst.
Jason Wilson, from Bartley Green in Birmingham, temporarily blinded 21-year old Ashley Madden with Jif lemon juice before launching into a seven-minute attack on the number 24 bus as it travelled through Birmingham city centre on 11 January.
The 35-year-old spat in the face of Madden and then lashed out with a series of kicks, knees and punches, after being asked if he could stop his partner's two children throwing sweets.
At one point Wilson stood on a seat so he could get a better angle to kick his victim. He later admitted his reaction has been "over the top".
CCTV footage from top-deck cameras was released through West Midlands Police in a bid to trace the attacker, generating a massive response with many people naming Wilson as the offender.
He then eventually handed himself into a police station on 20 February.
Sentencing Wilson to an 18-month jail sentence at Birmingham Crown Court, Recorder Martine Kushner said: 'What I saw on the screen was truly, truly shocking."
Sergeant Ben Westwood of West Midlands Police said: "People were understandably disgusted by the footage: the victim was minding his own business when he politely asked Wilson to stop the children throwing sweets at him...but that request prompted a barbaric, prolonged attack.
"At one stage Wilson stood on a seat to get a better kicking angle...the victim was lucky to escape with only a broken nose as it could have been much worse. And what makes it even more shocking is that he unleashed the attack in front of the children he was travelling with."
© Copyright IBTimes 2023. All rights reserved.