A woman from Birmingham has been found guilty of helping her husband plot a terrorist attack in the UK, including buying a large knife and plastic doll so he could have a dry run stabbing people.
Madihah Taheer, 21, supported her husband Ummariyat Mirza as he planned to carry out a terror attack in the country while his 23-year-old sister Zainub Mirza repeatedly sent him terrorist propaganda videos.
During a trial at Woolwich Crown Court, a jury heard how Taheer handed over her bank details so her husband could buy a large hunting knife and a lifelike training dummy so he could rehearse stabbing people.
The court heard how Mirza originally told Taheer to purchase another dummy as it was not the one he wanted. He then sent her YouTube videos featuring the exact doll he had in mind.
When officers raided their home on St Agathas Road, the dummy was found with slash marks on the forehead, across the throat and abdomen. Mirza was also found to have researched potential targets on his phone.
The court also heard messages sent between the pair before they were married in which Taheer wrote: "Can we get married already ffs. I want u to kill ppl for me. I have a list." Mirza replied: "The day of nikkah [marriage] I'll kill em all. Give me the list. The only thing that stops me is we are not married. I will defo I'm not joking."
The pair also discussed potentially stabbing someone they both knew 27 times, to which Taheer replied it would be "so satisfying".
Mirza's sister also admitted to sending him a steady supply of terrorist material, including Isis beheading videos, footage of hostages being drowned in a fish tank and a man holding two severed heads.
Ummariyat Mirza and his sister Zainub Mirza both pleaded guilty to terrorism offences on the first day of their trial on 9 October. Taheer has now also been found guilty of supporting her husband's terror plot.
All three are due to be sentenced at Woolwich crown court on 1 December.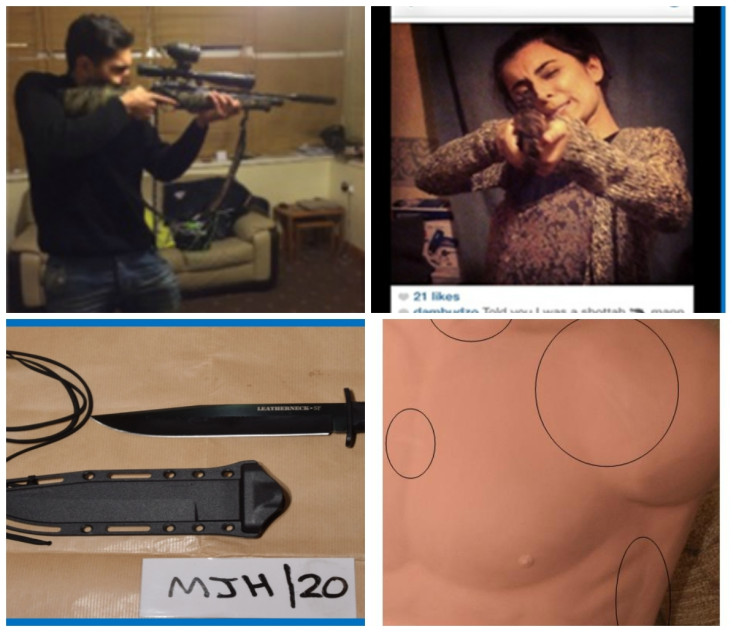 Detective Chief Superintendent Matt Ward, head of West Midlands Counter Terrorist Unit, said: "The planning [of Mirza's arrest] had begun in 2015 but quickly gathered momentum in terms of the volume and especially the nature of the shared material with the majority of videos shared by Zainub Mirza to her brother.
"The constant stream of material and supportive comments sent were, we believed, to encourage Ummariyat Mirza to begin acts of preparation for terrorism.
"When Ummariyat Mirza and his sister were arrested, mobile phones were found in the car and at their respective addresses, as well as at other family addresses.
"Their devices were examined and a significant quantity of relevant mind-set material was found on them. The communications between Ummariyat Mirza and his sister reveal that they shared extremist material and praised killings carried out by Daesh [Isis].
"It is thought Mirza and his wife, encouraged by Zainub, were planning to carry out an attack in the UK, it is not known where this attack would have been, but we discovered research into potential targets, including military sites in the area."
Sue Hemming from the CPS said: "There can be little doubt that Mirza had the knife so he could carry out a terrorist atrocity in the UK.
"The prosecution's case was that his wife was a willing accomplice who bought the knife knowing what he was planning to do.
"This couple posed a serious threat to the public in Britain and now face the prospect of time in prison where they will no longer be a danger."