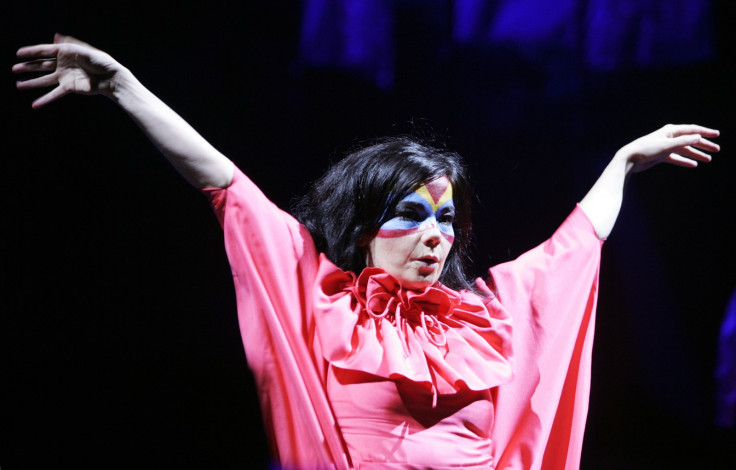 Björk has announced plans to bring a new virtual reality exhibition to London's Somerset House in September. The project titled Björk Digital combines elements from the Icelandic singer-songwriter's ninth LP, Vulnicura, with "immersive" VR technology.
The showcase marks the first exhibition of Björk Digital in Europe, giving local fans a chance to sample aspects of Björk's ambitious next project ahead of its release - a full "VR album" based on Vulnicura.
"I feel the chronological narrative of the album is ideal for the private circus virtual reality is," said Björk. "[sic] ive put importance in the exhibition on the interactive element , that folks can watch vulnicura on vr and try biophilia w ipads."
The theatrical exhibit reportedly hopes to capture the "emotional landscape" of the artist's work by "pushing the boundaries of what is possible in music, art and technology," and it certainly sounds like it will be quite an experience.
Headlining the show are the singer's collaborations with Los Angeles-based filmmaker Andrew Thomas Huang. These include Black Lake - which features "panoramic visuals and enveloped by a bespoke, cutting edge surround-sound system" - and Stonemilker VR - a 360 degree VR experience that drops the viewer onto a "windswept" Icelandic beach where a virtual recreation of Bjork awaits to recite her song of the same name.
The exhibition also features VR-inspired takes on her songs Mouthmantra and Notget, which Somerset House's website details further:
"In Mouthmantra VR, Björk worked with director Jesse Kanda to capture intense footage from inside her mouth whilst she sings the title track, her teeth and tongue twisting and seemingly taking on a life of their own. Meanwhile, Notget VR, directed by Warren Du Preez and Nick Thornton Jones, presents Björk as a digital moth giantess transformed by stunning masks created by artist James Merry."
The public exhibition of Björk Digital premiered in Sydney, Australia in June, before reaching Tokyo, Japan later that month. After its showing in London, the exhibit is set to move to Paris and Houston.
According to a Variety report, Björk's VR work will release to the public on Oculus Rift, HTC Vive, Samsung Gear VR and as mobile apps for iOS and Android in the future.
Björk Digital is at Somerset House, London from 1 September to 23 October and you can buy tickets for the exhibition here. A one-off live show has also been announced to coincide with the showcase, which will take place at the Royal Albert Hall on 21 September.