Blac Chyna has been trolled on social media after her latest sex tape was leaked.
The 29-year-old's ex-boyfriend Mechie is claiming to be the male in the explicit clip, with his rep telling TMZ that it was shot back in July. He is the one who recorded the encounter despite it being used on Chyna's phone, and shows the naked mother-of-two performing oral sex on him.
Mechie's rep has also claimed that he never had his own copy of the video and has no clue about how it got out.
Chyna's attorney Walter Mosley has called the leaked video a "criminal matter," while her other lawyer Lisa Bloom has described it as "revenge porn."
Mechie is planning to go to the police according to sources, and wants the leaker to be found and prosecuted.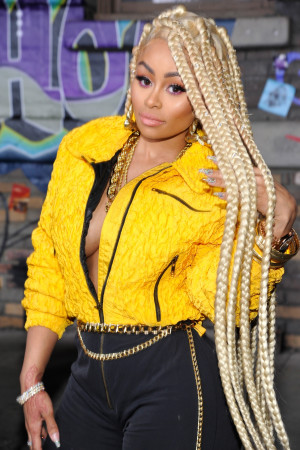 Twitter has erupted in response to the tape, with many referring to the glamour model's relationship history which includes Rob Kardashian and rapper Tyga.
One person wrote: "This chick @BLACCHYNA so desperate to be a Kardashian & get back at @Tyga that she wasn't satisfied with just hsving a baby by @robkardashian, but she made a sex tape too. I swear Kim did that 1st. But i could do better than both of them together."
While another said: "I just watched the blac chyna sex tape and.... don't waste 13 mins of ur time."
A third added: "Blac Chyna has never ever ever been relevant. With or without bangs, Pre and post babies, as a Kardashian, as an abandoned baby mama, all have registered 6/10 at best in the relevancy meter."
As one other social media user slammed her performance in the clip, writing: "There's a reason blac Chyna can't perform well. She got that Kardashian curse."
It is not the first time Chyna has experienced revenge porn, since Kardashian posted naked pictures of her last year as well as an intimate video of Mechie and her with dark hair kissing. The new sex tape is from a different encounter because she sports a platinum blonde hairdo.
Chyna's attorney Mr Mosley wrote on an Instagram post: "Why do we think it's acceptable to sell, or publish, or seek revenge, or blackmail women in this way and without their consent?
"We need to stop sharing these videos with each other in the club, at the barbershop or (and especially) online. It is a morally corrupt action, which is (at least in California) criminal," he added.