Black Lives Matter protesters chained themselves together on the M4 spur road to block an entrance to Heathrow Airport on Friday morning (5 August) on a day of action to mark the fifth annivesary of Mark Duggan's death.
Ten people have been arrested after huge traffic queues formed near the airport when demonstrators from the civil rights movement laid on the ground and unfurled a banners reading "Black Lives Matter" and "This is a crisis".
Police are in the process of safely releasing six of the arrested protesters who have locked on to each other.
Similar protests have happened across the country one day after the fifth anniversary of the shooting of 29-year-old Mark Duggan in Tottenham by armed Met Police officers.
Organisers deliberately targeted the M4 spur road to cause as much upheaval as possible and because it was close to the Harmondsworth detention centre, the immigration removal facility that holds asylum seekers, foreign offenders awaiting deportation and men in the UK illegally.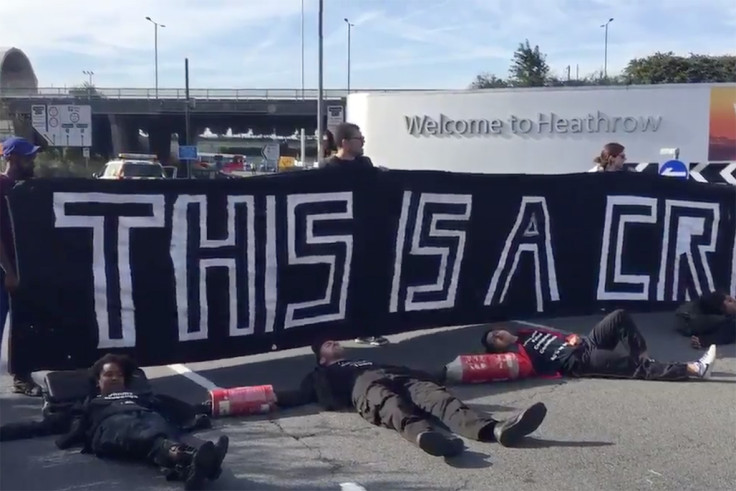 "This morning UKBLM have #shutdown roads in London, Birmingham, Manchester and Nottingham to mourn those who have died in custody and to protest the ongoing racist violence of the police, border enforcement, structural inequalities and the everyday indignity of street racism," the group said in a statement.
"We have chosen today for our action to commemorate the fifth anniversary of Mark Duggan's death at the hands of the Metropolitan Police. We stand in solidarity with the families and friends of all who have died at the hands of the British state. We take action because justice has not been delivered through conventional means: the police, the IPCC, the courts or the legislature."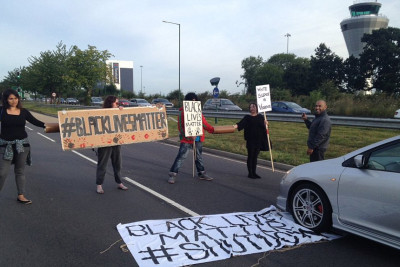 Police were called to the road near Heathrow at 8.25am and remain at the scene while holidaymakers are left sweating on making check-in times for their flights. A number of demonstrators have been arrested and police have managed to re-open one lane. Long delays are expected between junction 4, the A408 and junction 4a, the A4, because of the protest. A diversion via the M25 has been put in place.
A Met Police statement said: "Police in Heathrow are dealing with a demonstration. Police were called at 8:25am on Friday, 5 August, to the M4 slip road, Heathrow Airport. A number of people were reported to be blocking the road leading to the airport. Officers have attended. A number of people have been arrested. One lane has been opened, but there is traffic congestion."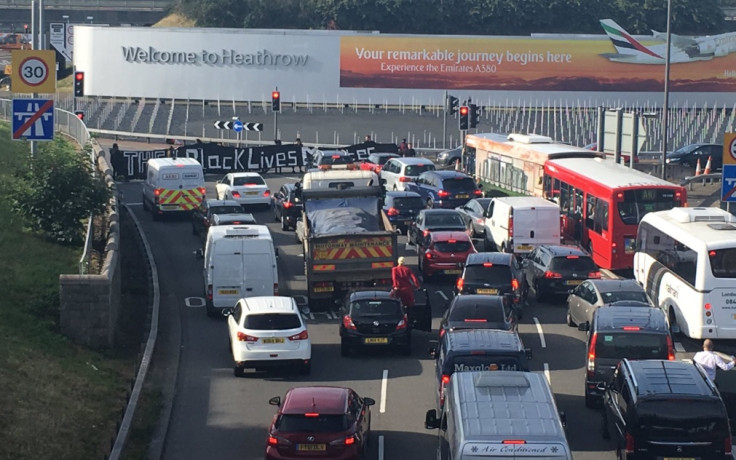 The Met Police was forced to quell speculation of an outbreak of disorder last month after crowds clashed with police at Hyde Park. The force was "frustrated" to read reports of potential violence at events in the capital including the Notting Hill Carnival. "That is quite simply not the case," a spokesperson said.