Pauline Pearce first noticed something was not quite right when she smelt burning rubber. The radio volunteer was walking along Hackney Road in north London to the studio where she broadcasted a Monday night show but that night she could not recognise her own street.
Cars had been torched, bins set alight and smoke meant everything had been smudged a greyish hue. Shops had been ransacked and destroyed and looters were filling suitcases full of stolen items.
It was 6 August 2011, two days after Mark Duggan, a black man suspected of being a member of the Tottenham Man Dem gang, had been shot and killed by armed Metropolitan Police officers sparking the London Riots.
Mob rule had made its way to Hackney. "The thing that sticks out for me when I look back is the looting," Pearce tells IBTimes UK. "It was horrific and it was unnecessary. Oh God yes it was opportunistic. Those people that were looting and burning things, a lot of it was opportunistic.
People had suitcases loaded up with goodies from the shops. It was like free shopping day - Pauline Pearce on the London Riots
"I'm not cordoning it but with the burning of the cars you could say it was a defiance against whatever establishment they were against. But going into shops and stealing things...I saw the damage they did to Siva's place (Clarence Convenience Store, which was ransacked during the riots), they tore it to shreds, wires were hanging from the ceiling. It was frightening. People had suitcases for God's sake loaded up with goodies from the shops. It was like free shopping day."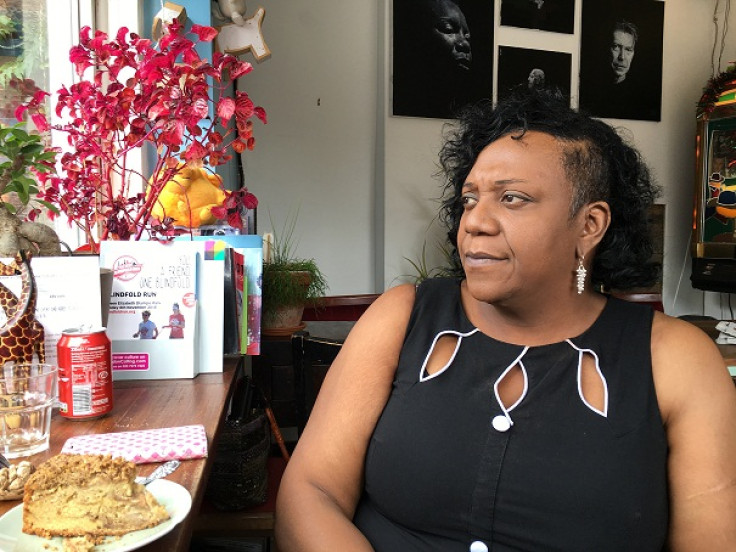 That night, Pauline continued slowly - she walks with a walking stick - on her way to the pirate radio station where she was planning to talk about gun and knife crimes. But amid the carnage she stopped and looked around. Creaking from chemotherapy she had recently undergone after suffering breast cancer, she unleashed a tirade against the looters.
Standing in front of a wall with"F*** Cameron" daubed on it she shouted "Get real black people!" "You lot p*** me the f*** off. I'm ashamed to be a Hackney person," before shouting for the community to come together rather than "Running down Foot Locker."
The outburst, which Pauline now says was either "stupidly brave or bravely stupid", was filmed on a mobile phone before being uploaded to social media and going viral. It was viewed millions of times and beamed as far away as America and Australia propelling Pauline into an overnight warrior against the uprisings. She became known as the Hackney Heroine and the footage made her instantly recognisable in the community.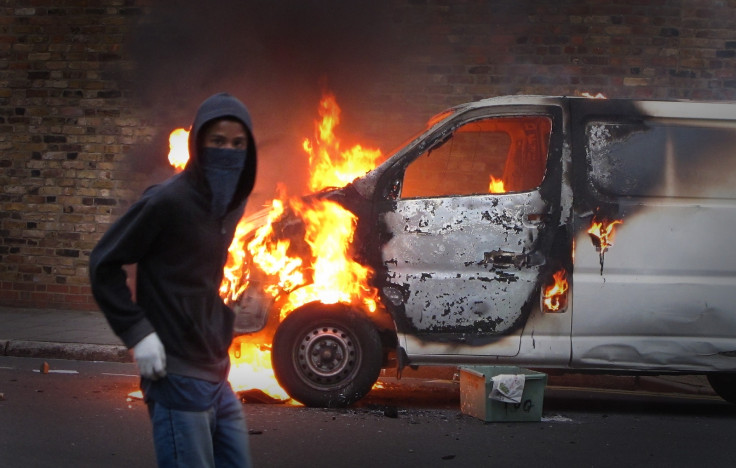 Pauline, now 51, used her fame from the clip to launch a political career as a Liberal Democrat after she was courted by the Conservatives, Labour and the Green Party for her action in the community.
She was given the Peace Award in 2011 by the then Mayor of London Boris Johnson and claims the video was brought to the attention of Barack Obama. She is now a prospective parliamentary candidate and is eyeing up a run to become Mayor of Hackney in 2018.
The video brought hatred, jealousy, animosity and anger
"I did not realise I was being at all political," she explains. "I thought I was just being a community person who was saying enough is enough. Through the riots I realised a lot of the stuff I was doing before was political.
"I've now got a better understanding of politics and that I actually have a brain in my head.I'm now achieving goals I never set out to achieve. So on a personal level I feel that I have gained so much since the riots but it is sad to have come off the death of somebody."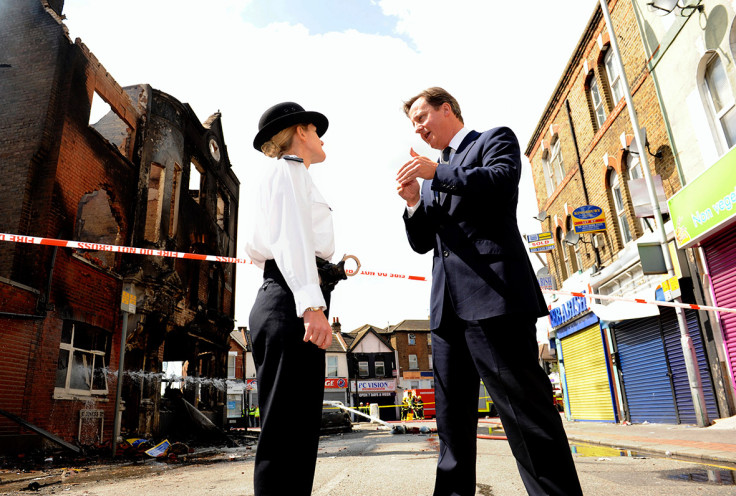 As Pauline sits in the "cinema seats" of her favourite cafe in Hackney it is clear she is well-liked. People wave at her as they cycle past and she is comfortable enough in her surroundings to swear like a trooper. Only later during our conversation does her mood change, her voice trembles and she cries.
"The TV stuff and meeting people has been great but I've been through some rough periods since the riots. It has not all been a bed of roses The video was a blessing because it gave me a platform but on the other foot it brought hatred, jealousy, animosity and anger."
"I was told by a gang to work for them and they would get me all the votes in the borough
Her high profile made her a target in the community and she has been called a "whore" and a "prostitute". "It turns out I'm one of the biggest whores in Hackney, I've slept with nearly every black man there is going." She admits she's "no saint" but the slurs reduce her to tears.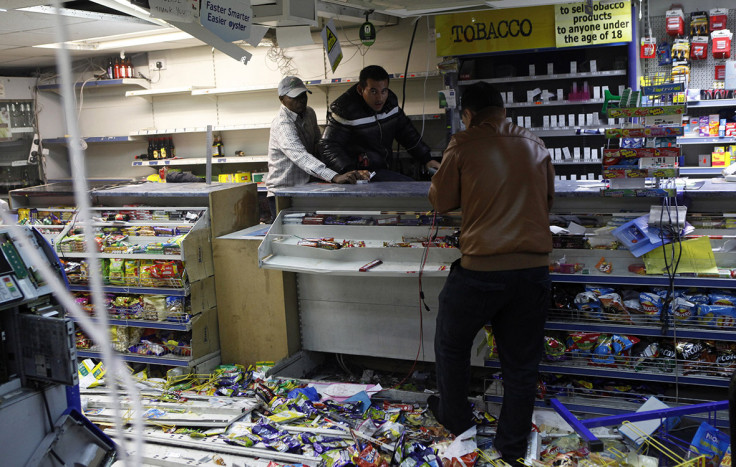 Her status also made her a target by the underworld and two weeks after the riots Pauline came face-to-face with enforcer's from one of Hackney's most violent gangs who said they would rig an election for her if she helped divert police gaze.
"I was told by a gang that I was to work for them and they would get me all the votes in the borough. I said 'You lot are watching too much TV'. This s*** don't happen in real life. I am not up there.
A gang member was saying: 'Let's just wet her. Let's just wet her', meaning to cut me
"They told me 'And you need to tell them to take that camera off of his f****** house because they are watching every deal we do.' I told them I didn't need to do anything for anyone. I was just the woman who shouted off during the riots.
"People are interested and I do what I can in politics, I'm not an MP, I have no policing powers to tell them to take CCTV cameras down so you lot need to sort it out. That's when they started planning to do something nasty to me because they felt I should come and work for them. And this gang, they take heads off. I was petrified.
It was scary and no one took me seriously. They [the gang] wanted a politician to rig up
"They said I had to help them, to sort their problems out. Within five minutes the house was packed. Absolutely jam solid packed with more geezers with two people doing the talking.
"One doing threatening and door slamming saying 'Let's just wet her. Let's just wet her', meaning to cut me. I was very much on my own and my phone was dead...My friend had not shown up and everything was going against me.
"They wanted me to set up..," she says through tears, "I'm sorry. It was scary and no one took me seriously. They wanted a politician to rig up [for influence]."
Pauline will spend the fifth anniversary of the riots looking back and asking what could have been differently. She believes jail the jail sentences handed out in the aftermath were too severe (1,292 offenders were jailed for more than 1,800 years) and not enough has been done to quell racial tension or mistrust towards the police.
"But then it is what it is and you kind of think forward and think about what has been achieved since then. It is important to keep fighting."