The mood at Hyde Park on Tuesday night (19 July) started as a happy one. It was the hottest day of the year and hundreds of youths had gathered in the central London park after responding to 'link-up' adverts on Instagram.
Dozens of mobile speakers were set up on the grass and playlists were being blasted into the balmy summer air.
"It was positive," one of the revellers told IBTimes UK. "Young adults and teenagers running around together. Playing music through speakers, playing games, spraying water pistols and sitting on the grass in groups."
However, by the time dusk fell three people – including one police officer – had been stabbed, bottles were launched and cries of "Black Lives Matter" and "f*** the police" erupted. A nearby McDonalds in Marble Arch had also reportedly been looted .
How did a serene summer evening descend into violent chaos?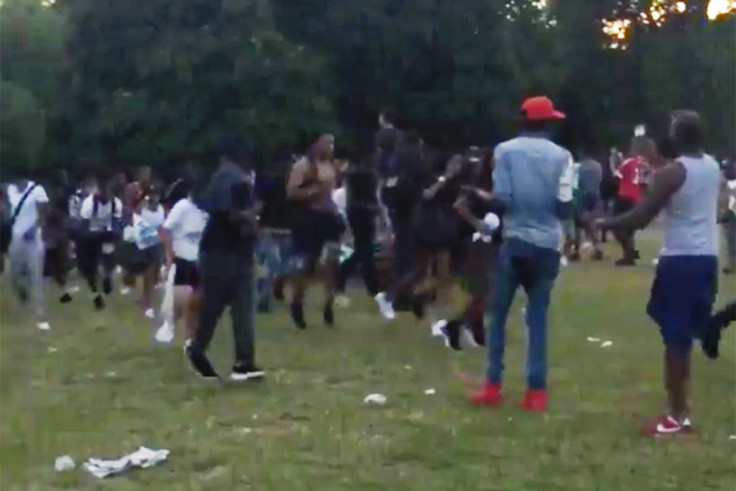 'Everyone gathered and danced'
Met Police officers had been at the park since 3pm when the mercury level in thermometers nudged over 33°C. As well as sunbathers, groups of youths were arriving after an advert that day on social media site Instagram promoted a 'link-up'.
"Basically a couple people from Instagram wanted to do a summer link up, just to get together and vibe. The turn out was quite big, obviously, on the hottest day of the year," a 17-year-old girl from Essex told IBTimes UK.
"Everyone brought speakers to blast music out of but there was this one speaker and DJ that was the loudest at one point. So everyone gathered at you do, and tried to get the dancing started."
But police seemed to grown concerned at the volume of the music and moved in to tell groups to turn it down. Eyewitnesses described officers then wading into the middle of crowds to disperse them.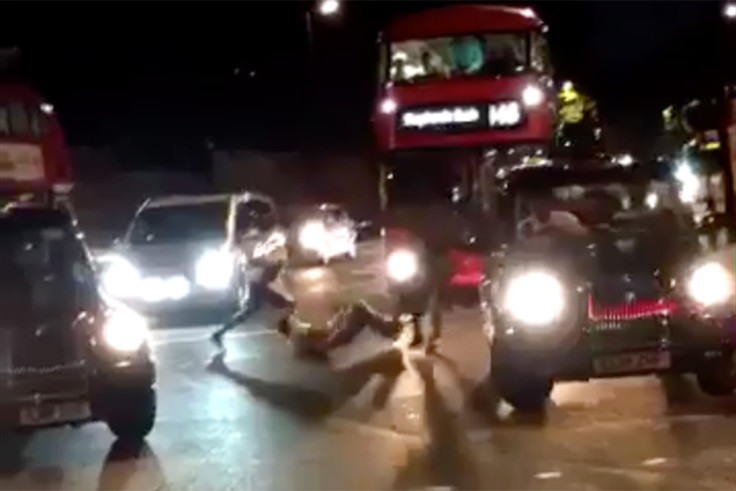 'Police retreated back to their cars'
That is when things started to turn ugly. "There was no harm being done by the crowd, dancing and music was the only motive. When the police came, some people were obviously a bit mad because no crime was taken place, so they started saying 'f***the police' and whatever else. Then bottles were thrown causing the police to retreat back to their cars."
Police vans arrived near The Serpentine lake in the park triggering "1v1s" between youths and officers, with glass bottles raining down. Fights broke out among groups and the threat of violence forced crowds to run to safety in different parts of the 350-acre park.
At about 7.30pm amid their confrontation with police, black youths shouted "Black Lives Matter" and "f*** the police" as the evening took another twist towards a civil rights protest. Riot police were sent to clear the area at 8.40pm under the surveillance of a police helicopter.
"It was never the initial motive of the crowd to protest, most seemed it would fit since it was almost a 1v1 against the police and black youths," the eyewitness added.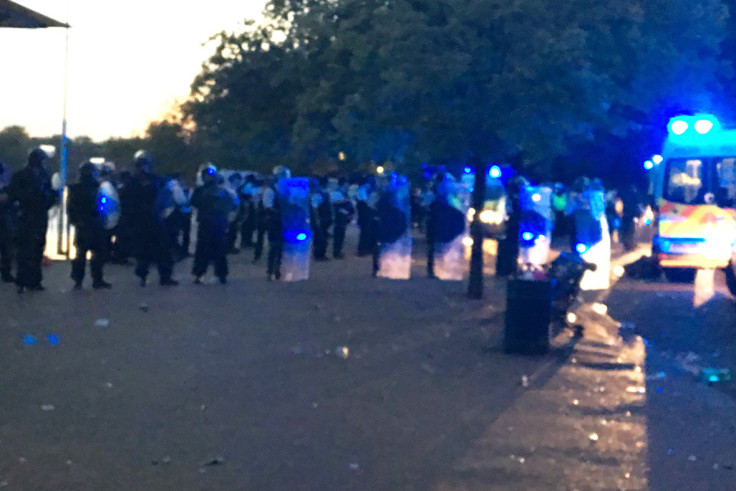 'Why are you carrying?'
Taylor Nevis arrived at Hyde Park with a shopping bag of food and drink with a group of friends at about 4pm. His was one of the groups told to turn down their music ("I think Skepta was playing") and saw as tensions started to simmer.
"Everything changed one the police arrived," the 19-year-old said. "Everyone was having a good time, you know? No one was breaking the law."
Nevis, a black man from Newham in East London, did not see anyone get stabbed but heard one of the groups say "you carrying?" after someone apparently dropped a knife.
Males in rival groups then started turning on each other. "People were saying 'Look at me like that again. Look at me.' It got really out of hand."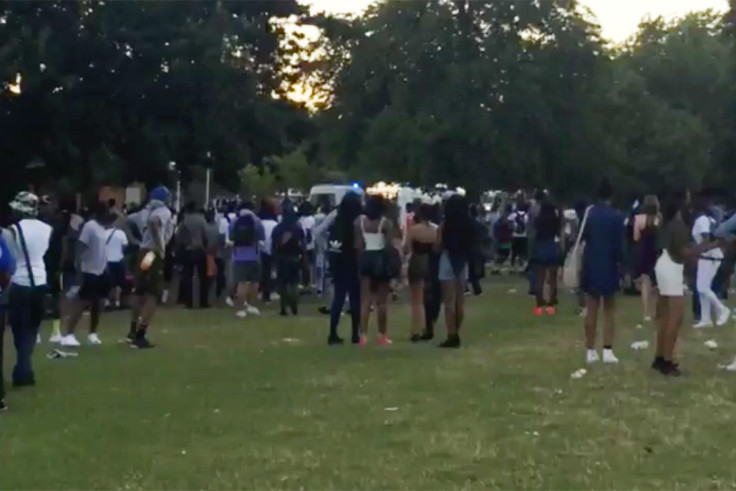 'That's when it kicked off'
Another witness who spoke to IBTimes UK on condition of anonymity said things took a turn for the worse once police ordered groups to turn their music off.
"People were asking for reasons [to turn the music down] and I heard officers tell people 'turn it off, first time is a warning. Second time we'll have to move you along'. Not 'turn down' it was "turn off'.
"Police tried to detain a young man in a group for his small speaker and people started throwing bottles at the police. Initially plastic bottles and water. That's when it kicked off.
"There were youths there from different areas. I knew of the police was badly injured by the bottle throwing, which for me was bad enough."
It took police until nearly 3am to clear the area and an investigation has been launched into violence. No arrests have been made so far and detectives are scouring CCTV and social media for clues.