The 19-year-old suspected of killing one woman and injuring five others in a "spontaneous" mass stabbing in London's Russell Square has been described a "very polite" person with no history of violence.
Zakaria Bulhan, a Norwegian of Somali origin, was arrested on suspicion of murdering 64-year US national Darlene Horton on Bedford Place on 3 August and remains in police custody. A British man, a US man, an Israeli woman, and an Australian man and woman suffered non-life threatening injuries.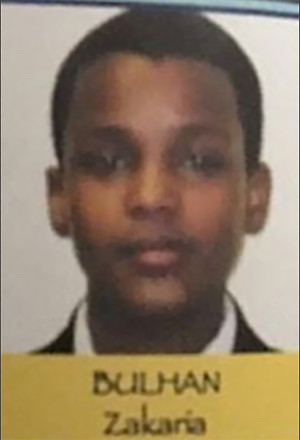 Armed officers arrived at the scene within five minutes of receiving reports of a man attacking people with a knife and managed to detain the suspect after discharging a Taser.
Bulhan, who lives in the Tooting area of south-west London, is believed to have a history of mental illness. Police said mental illness would be the focus of their inquiry while ruling out terrorism as a possible motive after finding "no evidence of radicalization or anything that would suggest [he] was motivated by terrorism."
Following his arrest, people who know the former pupil at Graveney School in Tooting described their shock that that he was accused of the attack.
Neighbour Parmjit Singh, 36, told the Sun: "I am gobsmacked because he was always so polite. He was a nice guy who loved playing football, very athletic. He was never violent and always went out of his way to help neighbours."
A former classmate, who did not wish to be named, told The Times that Bulhan was "normally the one that would get picked on, rather than the one that would pick on people" at school. A second, Samira Plummer, added: "We used to call him Zaky. He was always smiling and joking. We were in the middle set together doing the same lessons. He was a Muslim but he didn't really talk about religion."
The Norwegian ministry of foreign affairs confirmed Bulham emigrated from the country to the UK in 2002. A spokesperson said: "We will assist the British police in the normal manner, with information and any requests they might have in their investigation."
Tributes have also been paid to Horton following her death. She was due to fly back to her hometown of Florida the day after she was killed. She had spent the summer in the UK with her husband, a professor at Florida State University (FSU), who was on a summer teaching programme.
"There are no words to express our heartache over this terrible tragedy," FSU president John Thrasher said. "We are shocked that such senseless violence has touched our own FSU family."
Matthew Barzun, the US Ambassador to the UK, tweeted: "Heartbreaking news that a U.S. citizen was killed in Russell Square attack. My prayers are with all the victims and their loved ones."
Four of the others hurt in the attack have since been discharged from hospital, while the Briton who suffered a stab wound to his stomach is still receiving medical attention. His condition is described as serious but stable.
Assistant Commissioner Mark Rowley, from the Metropolitan Police, said: "This was a tragic incident resulting in the death of one woman and five others being injured. Early indications suggest that mental health was a factor in this horrific attack. However, we are keeping an open mind regarding the motive."