The Dow Jones Industrial Average dropped an average of 1,000 points on opening on 24 August as global shares plummeted with Asian shares in the lead. Wall Street traders saw the US stock market benchmark nose-dive by almost 6% and enter correction territory. The Dow opened at 16,459 before falling to 15,490.
Although the dropping share prices are usually considered an opportunity smaller investors are keen to seize, the major sell-off pushed the markets into manual correction territory before it could correct itself.
The S&P 500 Index fell by 3.2%, as analysts say the sell-off is far from over. Investors and analysts panicked and expressed fears of another financial crash.
The news on Wall Street comes after the Shanghai Composite, China's benchmark index, lost all its gains made in 2015 by falling more than 8%, investors panicked about the future of the market.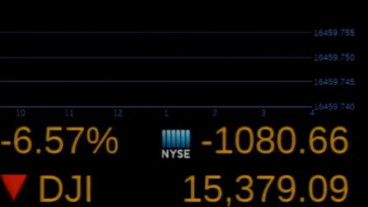 Meanwhile, at the open, commodities traders found oil benchmark Brent crude fell below $40.
The markets bounced up quickly, however, causing the Dow to return to a loss of 300 points, or less than 2%. The biggest fallers included banking giant Goldman Sachs, which lost 4.73% while McDonald's shares fell by 2.49%.
Media and technology companies such as Apple, Facebook and Netflix also suffered major losses. Overall, an estimated $5tn was wiped off equity markets since the devaluation of the Chinese yuan was kicked off, affecting markets worldwide.
Robert Hockett, law professor at Cornell University and banking and finance expert, said that the global sell-off proves that the success story in China has been the country's equivalent of the 'Roaring 20s', adding that"the chickens are now coming home to roost".
He stated: China's emerging middle class has taken on huge quantities of private debt in recent years to buy everything from real estate to stocks. The result has been a sequence of classic credit-fueled asset price bubbles much like those experienced by the U.S. in the 1920s and early 2000s.
In the UK, benchmark index the FTSE 100 fell below the 6,000 mark for the first time since 2013, dropping by 2.6% to 5,950, and it is a 16% decline from its high of 7,100 in April.
The Nikkei in Japan also suffered its biggest drop in two years. Panic selling and a shift to safe haven investments caused other stock markets to plummet as well. Hong Kong's Hang Sheng lost 4.6% and dropped to 21,378.
Germany's DAX fell by 320 points below the 10,000 points mark, dropping more than 20% since its high in April, while France's CAC 40 lost around 3.2% over the weekend.