Thousands of women took to Poland's streets on Monday (3 October) as part of a nationwide strike in protest against a proposal for a total ban on abortion.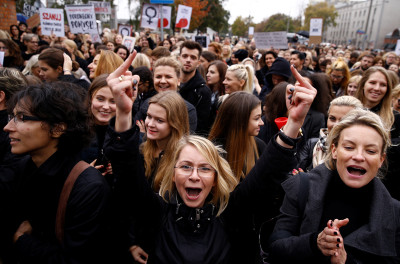 Dubbed as 'Black Monday', women across the country wore black as a sign of mourning for the feared loss of their reproductive rights, and for the deaths that they feel some women would face, if the ban were put in place. Men also joined women on the streets of Warsaw, Gdansk and elsewhere across the largely Catholic nation.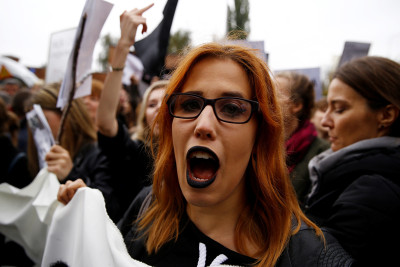 Abortion is banned in Poland under the existing law which has been in force since 1993. The only exceptions are in cases where the woman's life is in danger, the foetus is irreparably damaged or the pregnancy results from rape or incest. The new proposal, now being examined by a parliamentary commission, would make all abortions illegal, even in cases of rape or when the woman's life is at risk, with prison terms of up to five years for women seeking abortion and doctors who perform them.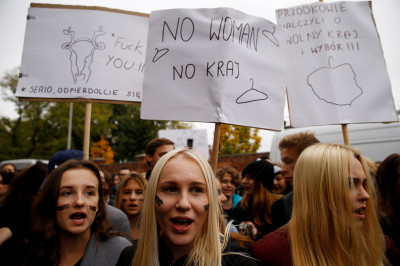 The proposed law was introduced by the group Ordo Iuris, who have gathered 450,000 signatures, and is supported by the church. It would forbid any termination, tightening Poland's already restrictive rules. Many members of the conservative ruling party, Law and Justice (PiS), support the proposal, but it's not clear if there are enough to push it through. It is unclear whether the Polish government will back the draft law, but the possibility of new restrictions has stirred an intense debate.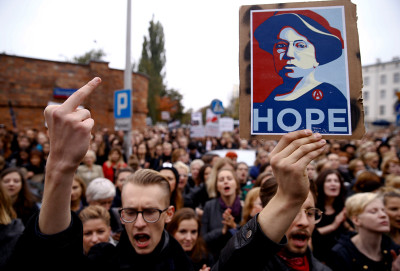 Standing outside the PiS headquarters in Warsaw, people were seen holding signs and chanting slogans such as "We want doctors, not missionaries!" and "My body, My choice." Others held coat hangers - a symbol of dangerous and illegal abortions which could become more common if the ban were to happen. Protests were also held outside Kiev's Polish embassy and the European institutions in Brussels.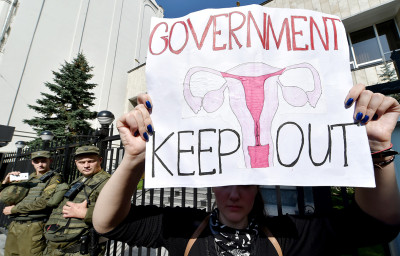 In downtown Warsaw Agnieszka Krysztopolska sat in a Starbuck's shop with several friends who were all boycotting work. "I have two children and it's not like I am some kind of hardline feminist but I do not agree with somebody depriving me of the right to my own health or that of my children. I think this bill is just dangerous," she told the Associated Press.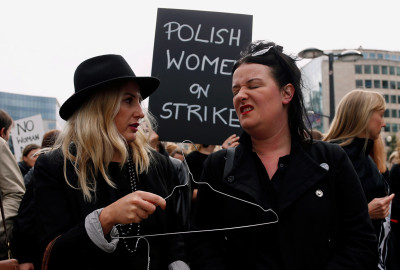 The day of action also included a call for housewives to refuse to do housework, with organisers taking inspiration from the 1975 women's strike in Iceland, where 90% of women refused to work, clean or look after their children, to voice anger at discrimination in the workplace. Iceland saw a change of law the following year, which guaranteed equal rights for men and women.