Danielle Murrell is a 27-year-old graphic designer from Montreal. Growing up she loved to draw and paint, despite the fact she never felt like she belonged in the art world. As a person of colour, she rarely saw herself in colouring books – so decided to change that by publishing her own.
She tells IBTimes UK: "I'm half Bajan and half British, since my mom was born in London and my father in Barbados.
"So many of us have said that we didn't have people, products or media to relate to, and I want to be apart of the movement that makes that a thing of the past. Regardless of the naysayers, representation matters."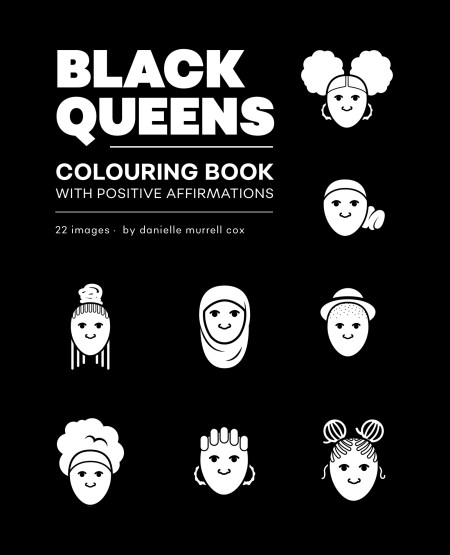 Murrell's says her colouring book Black Queens is for "anyone who felt like they didn't belong, especially kids".
It all began when she created an avatar of herself, which is on the bottom right cover of the book.
"I'm a lover of minimalism and simplicity, so it was fun to find a way to create myself in an simplistic cartoon form. Once I created my personal avatar, I thought of how great it would be to make others that people could relate to as well."
After uploading images onto her Instagram page and receiving positive responses, she decided to draw more and more avatars and create a book for them all. Not approached by any external publishers, she designed, created it and self-published it on her website.
Seeing herself and other BAME women represented in the media growing up was a pipe dream and so this is her way of ensuring others have something to connect their identity to.
Industries across the world are failing in their diversity quotas and the media is one of the worst examples of this. The art world is among the most problematic industry as showcased by Alex Farquharson, the chair of the Turner prize judging panel's comments in September.
He told The Guardian: "I would say that that black representation and artistic expression is a huge aspect of art today, both in the UK and internationally. In the art world right now there is an increased interest in, and understanding of, the contribution of black British artists in the 80s."
"They were important in their own day, but it was a struggle and it has not recognised as a key aspect of the story of art at that time."
In light of these big issues, Black Queens has been an overwhelming success and initially sold out but has re-stocked to meet demand.
The reception since has just been phenomenal too:
What's more, her job isn't over yet. She's already thinking up more ideas to further her cause.
"I plan to create a male version of the colouring book, because the story of representation isn't only about women, it's about all of us," she says.
And for those who aren't interested in colouring, Murrell's work is available in poster form.
You can buy the colouring book here.
You can buy the poster here.