Black Sabbath have begun the United States leg of their final tour "The End", with future dates confirmed in Australia, New Zealand and at European festivals. It will kick off in Omaha, Nebraska, on Wednesday 20 January.
Upon announcing the conclusion of their near 50-year career, band members Ozzy Osbourne, Tony Iommi and Geezer Butler said in a video announcement "when this tour concludes, it will truly be the end".
Drummer Bill Ward withdrew from the band's 2012 reunion plans due to "unsignable" contract negotiations and is not believed to be involved in this final tour. The band will headline Download festival on 11 June, but there are currently no other UK dates scheduled for the British band.
As Black Sabbath's farewell tour begins, we look at the five weirdest things about the band and their long career.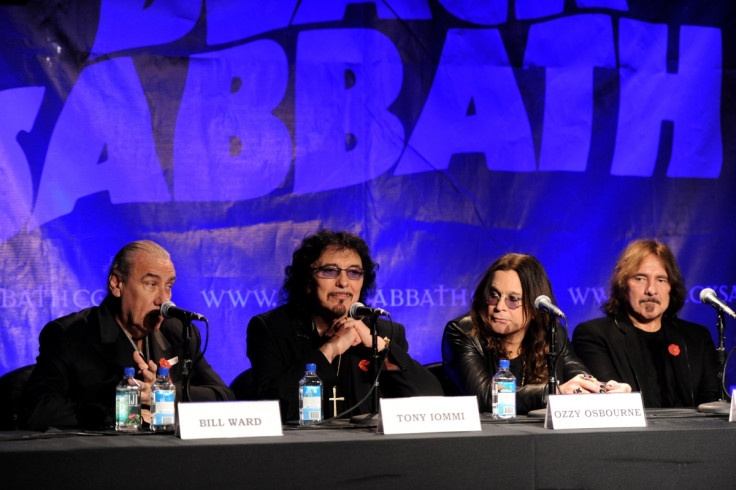 The band formed in Birmingham in 1968. Originally, they were called The Polka Tulk Blues Band and featured saxophonist Alan Clarke and guitarist Jim Phillips, before becoming Polka Tulk. When Clarke and Phillips left, the band become Earth, before finally becoming Black Sabbath in 1969 – a name inspired by the 1963 Boris Karloff Italian-French horror film.
Since the band formed, 22 musicians have been in the band – with Tony Iommi the only member present throughout (except for a brief hiatus from Earth in 1968 to join Jethro Tull).
Everyone knows the bat story, but Ozzy also bit the head off a dove after signing a solo record deal in 1981. He later explained: "Sharon gave me these two doves, told me to go into the conference room and throw them up in the air. I did that, but one of them didn't fly...so I picked it up, bit its head off and threw the body towards all the suits around the table... hoping they would, you know, see the funny side."
Iommi once claimed Ozzy smashed up a hotel room with a dead shark, too. The Sabbath guitarist revealed Osbourne sliced up a dead shark and sprayed the room with blood. "With drugs you always get bored, so you must do something to one another," he told the New York Post.
During the recording of Sabbath's 1983 album Born Again, Iommi blew up billionaire Richard Branson's prize carp with left-over pyrotechnics from a previous Sabbath tour for a laugh.