North Carolina: Blackbeard's Cannons Recovered from Wreck of Queen Anne's Revenge
Pirate ship's weapons found by underwater archaeologists off North Carolina coast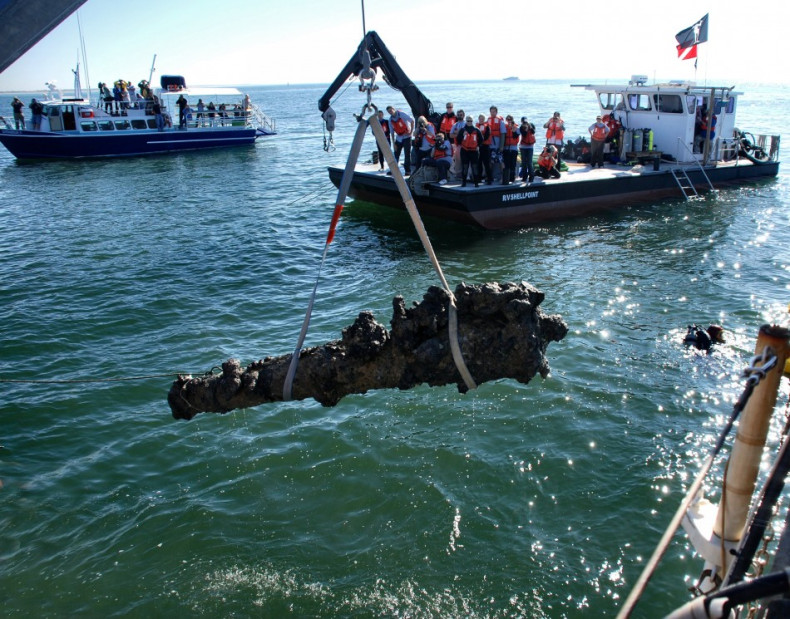 Two of Blackbeard the pirate's cannons have been recovered from the wreck of Queen Anne's Revenge off the North Carolina Coast.
The cannons were buried in the seabed for almost 300 years before they were recovered by a team of divers.
Archaeologists had hoped to recover eight cannons but poor weather conditions hindered the diving.
Blackbeard was one of the 18th century's most notorious buccaneers who attacked shipping lanes off North America and in the Caribbean.
His real name is believed to be Edward Thatch or Teach. He was thought to have served as a privateer during Queen Anne's War before turning to piracy.
Blackbeard encountered the French slave ship La Concorde off the island of Martinique in 1717. He and his crew captured the ship and renamed it Queen Anne's Revenge.
His pirate career ended in 1718 at Ocracoke Inlet off the North Carolina coast after his ship encountered an armed contingent led by naval lieutenant Robert Maynard. The ship was run aground and from the battle that followed Maynard emerged with Blackbeard's severed head, which was then hung from the bowsprit of the naval sloop.
State archaeologist Steve Claggett told the Daily News of Jacksonville: "The straps [to lift the cannons] were on and they had just been sitting there on the ocean floor but the weather kept [the salvagers] from bringing them up. This day is very satisfying."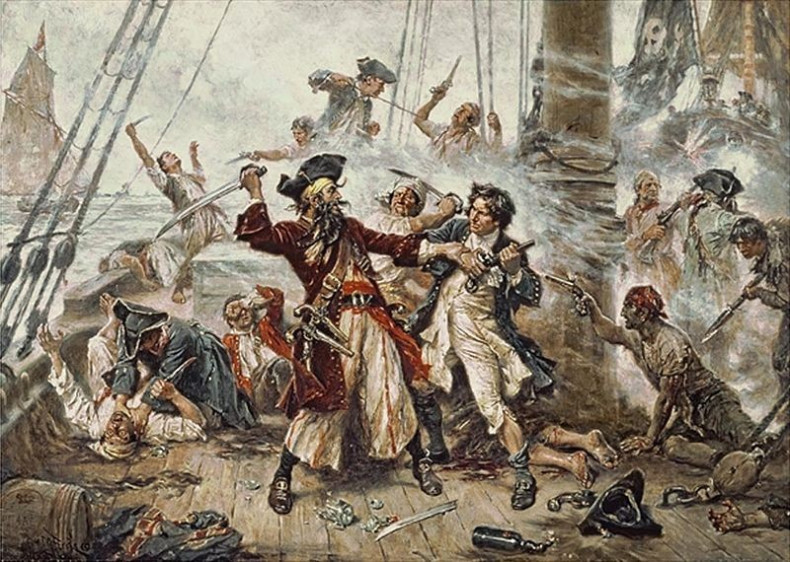 Susan Kluttz, of North Carolina's Department of Cultural Resources, added: "I'm so proud for North Carolina. This is such an incredible historic day for our state, and a thrill for me to see something come up from the ocean for the first time in nearly 300 years."
The find is part of a $450,000 (£292,000) state project to complete the recovery of Queen Anne's Revenge by next year.
Researchers have identified 27 cannons at the site in total. All are made of cast iron apart from one, which is bronze.
The latest two to be recovered are 8ft long and weigh 2,500lbs.
A statement from the North Carolina Department of Cultural Resources said: "The recent recovery of two cannons from the wreck of Blackbeard's flagship, Queen Anne's Revenge, was an exciting and rewarding day for the project researchers and history lovers alike.
"The North Carolina Department of Cultural Resources has led research at the site near Beaufort since 1997, adding to the body of knowledge on 18<sup>th century mariners and the lives, weaponry and plunder of pirates.
"Continued excavations by the N.C. Underwater Archaeology Branch in 2013-14 will yield more information on Capt. Edward Teach or Thatch, aka Blackbeard, and recover additional artefacts from his pirate crew."