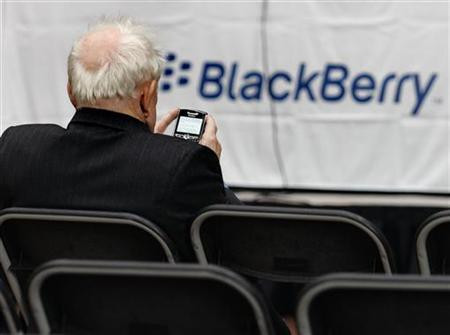 Despite widespread customer complaints and continuing reports of problems with its email and messenger service, BlackBerry has failed to offer compensation, or even apologise to its jilted customers, leading to fresh speculation that the company is digging its own grave.
The anger towards BlackBerry reached new heights after, in a press conference Wednesday, BlackBerry confirmed the cause of the outages, but offered no apology or compensation to affected customers.
Financial Troubles

Despite having previously held a significant share of the market, BlackBerry has suffered a slew of financial troubles.
Most recently BlackBerry's troubles reached a head when the company was forced to cull 2,000 of its permanent staff in July.
The news broke late in July when BlackBerry maker Research in Motion revealed that it was planning to cut 11 per cent of its staff to compensate for its ongoing poor financial performance.
Equating to roughly 2,000 cuts, the redundancies were announced as a part of RIM's ongoing "Cost Optimisation Programme". It was the first time the company had been forced to cut its staff in nearly a decade.
"In addition to the management changes outlined above, RIM today provided further details on its cost optimization program, which is focused on eliminating redundancies and reallocating resources to focus on areas that offer the highest growth opportunities and alignment with RIM's strategic objectives," read the statement published by BlackBerry regarding the cuts.
"The workforce reduction is believed to be a prudent and necessary step for the long term success of the company and it follows an extended period of rapid growth within the company whereby the workforce had nearly quadrupled in the last five years alone. As part of this broad effort, RIM is reducing its global workforce across all functions by approximately 2,000 employees."
The cuts are generally seen as a reaction to the company's continuing poor performance against Apple iOS devices.
Apple's iMessage
Unfortunately for BlackBerry, the release of Apple's highly anticipated iOS 5 operating system coincided with its slew of outage troubles.
The new operating system contained Apple's new iMessage feature. The new feature reportedly mimics BlackBerry's own Messenger service letting iOS 5 users send free messages to devices running the OS.
The iMessage service is now available exclusively to iOS 5 users as a built in feature of the OS messaging app. The service will reportedly work automatically, whenever users are messaging another iOS 5 powered device.
The news has led to speculation that BlackBerry has lost one of the few exclusive features keeping users attached to the company's devices. Analysts have since suggested that the company's ailing fortunes will continue, not just because of BlackBerry's ongoing lack of innovation within its devices, but also because of its callous disregard for its customers.