Blind Microsoft engineer unveils AI-powered project that helps him 'see' the world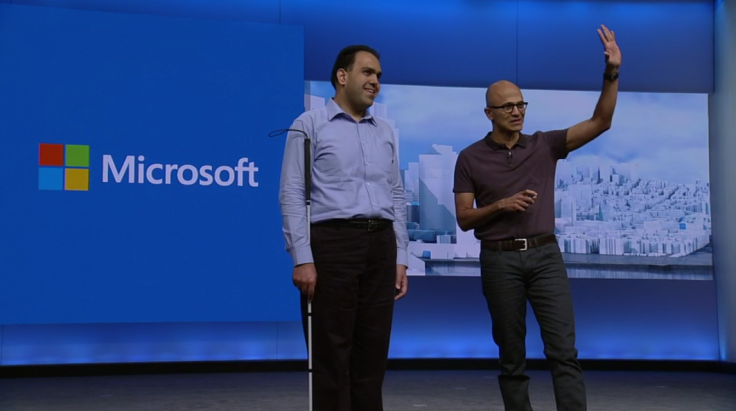 In a heartfelt demo that rounded off the Microsoft Build conference keynote this year, software engineer Saqib Shaikh outlined an ongoing research project that uses machine learning and artificial intelligence to help visually impaired or blind people to better 'see' the world around them.
London-based Shaikh, who has been blind since the age of seven, said that talking computer technology inspired him to develop the application – titled SeeingAI – that is built upon Microsoft Intelligence APIs to translate real-world events into audio messages.
The application is intended to work on both smartphones as well as PivotHead smartglasses. The video demonstration, below, depicts Shaikh taking a picture with his glasses which then describe to him exactly what they 'see' – from business meetings to teenagers skateboarding on the streets of London to a woman throwing a Frisbee in a park. While another scene demonstrates how the smartphone app uses a device's camera to take a picture of a menu then translate the text into audio.
"I love making things that improves people's lives and one of the things I've always dreamt of since I was at university was this idea of something that could tell you at any moment what's going on around you," Shaikh said in the presentation.
"Years ago this was science fiction. I never thought it would be something that you could actually do but artificial intelligence is improving at an ever-faster rate and I'm really excited to see where we can take it. As engineers we are always standing on the shoulders of giants and building on top of what went before. For me it's about taking that far-off dream and building it one step at a time."
The keynote gave no indication of when, or even if, the project will be released as a commercial app however if it comes to fruition it will comfortably sit beside the other futuristic technology announced during Build – from the cutting-edge HoloLens to enhanced Bot integration.
Watch the full video below:
© Copyright IBTimes 2023. All rights reserved.