BMW M2 review: The best car of 2016 so far
IBTimes UK wanted to see if the smaller M car lived up to the legend set by its predecessors and found it did.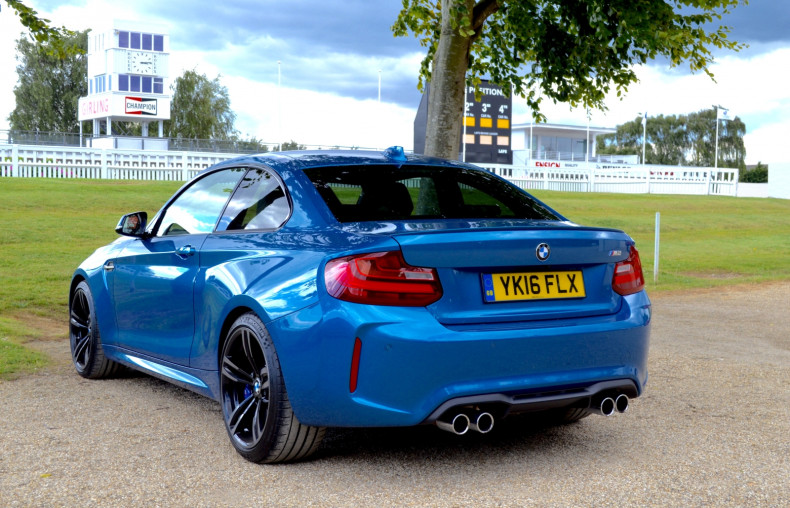 There is something we have always loved about BMW's M division. How the cars it produces look like regular saloons that have developed a gym addiction; how you just know the car is a product of a dedicated bunch of petrolhead engineers working overtime, not a committee armed with spreadsheets and profit margins.
It's why BMW M3s of the Nineties and early 2000s were some of our favourite cars, because they blended everyday practicality and stunning performance into a manageable and unintimidating size. Ferraris were on bedroom posters, but driving an M3 felt like something achievable.
And it's also why we fell in love with the new BMW M2 after the very first mile. Even in the default Comfort mode, a press of the starter button causes the three-litre, turbocharged six-cylinder engine to burst into life with the enthusiasm of a puppy on its first walk. We felt something similar as the M2 was being delivered; the gorgeous Long Beach Blue paint, black wheels and an aggressive body with quad exhausts and a wide rear stance; visually it's everything we want from a car.
We switch straight to Sport mode, pull one of the gear shift paddles behind the steering wheel to take the gearbox out of automatic, and do a couple of sedate laps around south west London. Even here, at 20 miles per hour, the M2 feels like something very special. The engine immediately clears its throat and introduces itself as the most important part, with the exhaust as its right-hand man.
Together they put on a show which lasts for the entire weekend, playing one of the greatest automotive soundtracks we've ever heard. Anything more than the smallest flex of your right foot summons up a crescendo of turbo whoosh, joined a second later by a growing wail from the exhaust as treble joins bass to produce an overture we doubt we'd ever tire of; a sound far more complex and dynamic than the usual bassy and uninspired thrum you get from some other turbocharged cars.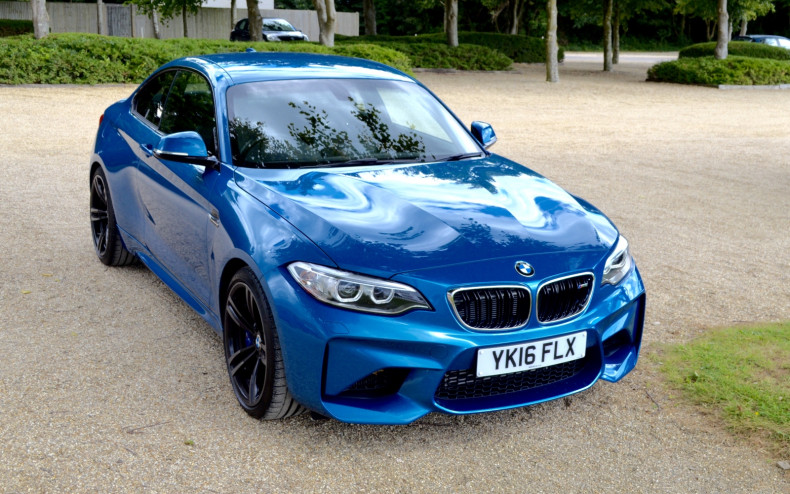 After a moment of turbo lag, the M2 wakes up and delivers a bite to match the bark. With 370 horsepower pushing just under 1,500kg down the road, the car hits 60mph in 4.3 seconds (or 4.5 with the six-speed manual) and is electronically limited at 155mph (or 186mph if you live in Germany and pay to have the limiter removed). It might be the baby of the range, BMW's smallest M car, yet it packs a punch to all-but match the M3, M4 and M5.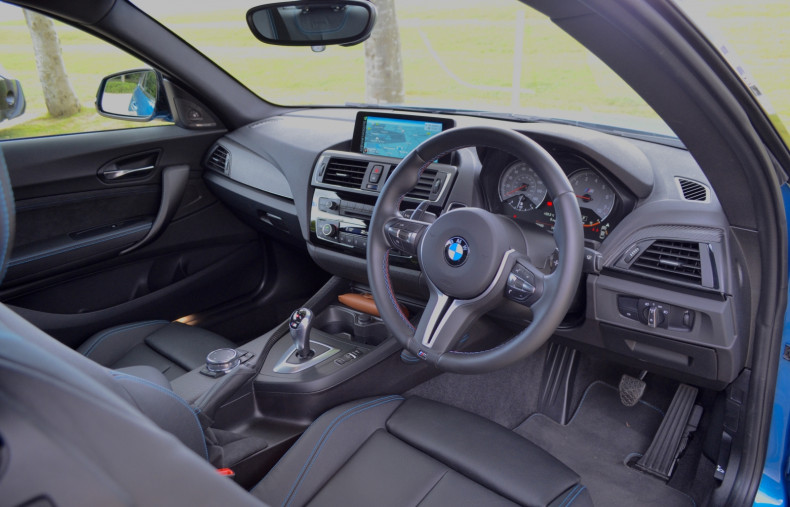 Despite the styling, noise, performance (and a willingness to step out of line as often as a petulant teenager), the M2's small size and humble origins as a small, sensible family car make it approachable. The steering also helps massively. Quick, precise and with good feel, it immediately reassures you that a line of communication between the front tyres and your fingertips is wide open from the off.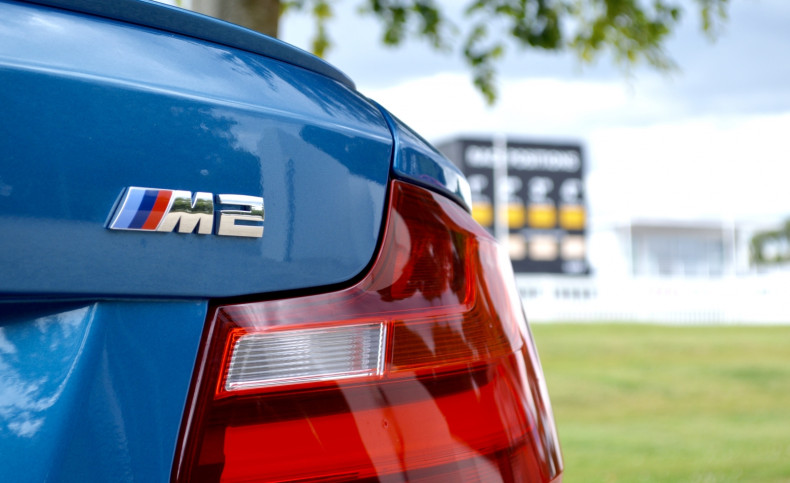 That communication remains open for the entire journey, keeping you up to date with what's happening on the road below you. Sometimes this alertness can make the M2 tiring, like a person constantly talking to you on a long train journey when all you want to do is stare out of the window. But while it's clearly never going to match a BMW 7-Series for cross-country comfort, for an agile car with massive performance its cruising ability is acceptable.
Town driving is something the M2 is surprisingly good at. The exhaust never really calmed down, but in Comfort mode the car is easy to thread through roadworks and navigate the heaviest London traffic. There's also enough space in the back for two adults, although those over 6ft will find it uncomfortable after a while, and the boot is also a good size. Basically, it's as practical as it is fun, a recipe which has always been at the heart of BMW's M division.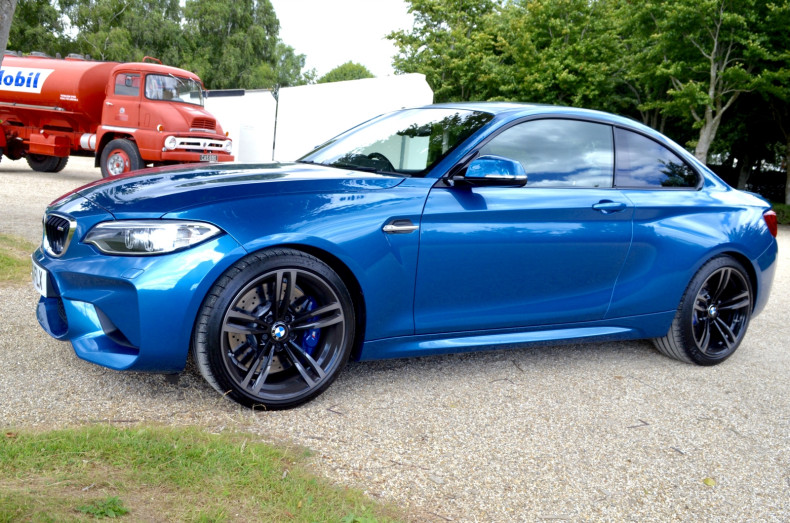 Speaking of M more generally, it's good to see the hallowed badge heading in the right direction again. The last M3 fell some way short of expectations in the eyes of many journalists, while the increasing size, power and price of the 3-, 4-, and 5-Series made it feel like the days of the beloved and more compact M3s and M5s of the Nineties and early 2000s were gone forever.
But not so. The M2 is proof that BMW and its M division still know what they're doing; proof that turbocharged engines don't need to be dull; proof that smaller really can be better.
The BMW M2 is sublime. It is everything we could ever want in a car of this size and price. Its muscular body looks superb, neatly treading a fine line between tasteful and thuggish, while the engine is simply a masterpiece. The handling is spot-on and the cabin is well-equipped, if slightly lacking in quality. Outright performance is there for you to have fun on your own, then there's seating for four and a decent boot when you need something more practical.
Sensational yet civilised, the M2 is our favourite car of 2016 so far.
2016 BMW M2
Engine: 3.0-litre, turbocharged straight-six
Power: 370 horsepower
Transmission: 6-speed manual or seven-speed automatic with paddles (a £2,645 option, as reviewed)
0-62mph (100kmph): 4.5 seconds (4.3 for the automatic)
Top speed: 155mph (limited)
Price from: £44,070
Price as reviewed: £50,755