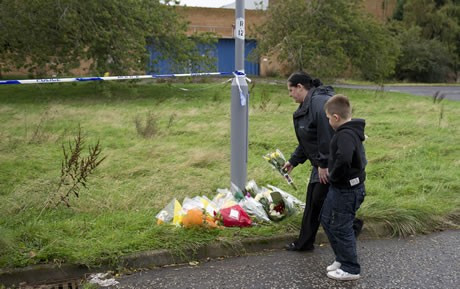 A gay man in Scotland was found dead Saturday morning, tied to a lamppost with his face beaten and his body scorched after what could have possibly been a homophobic attack.
The alarm was raised after Stuart Walker missed his grandmother's 80th birthday party, where they eventually learned of his demise.
The popular local barman was found tied to a lamppost at an industrial estate on the outskirts of his hometown, Cumnock in Ayrshire.
Yesterday the family opened up to how the killing was affecting them. John Mullen, Stuart's cousin, said: "We knew something was wrong because he was really close to his gran and wouldn't have missed her party for anything.
"He was close to everyone who knew him. He was everyone's best pal.
"Stuart was the best guy ever. Everyone knew Stuart; he was one of the best known boys in Cumnock and the surrounding area.
"If you were to walk down the street, no one would have a bad word to say about him."
Police last night said Stuart, who was gay, may have been targeted after a house party in the town where he spent most of his life.
The police are trying to work out what exactly happened during Stuart's final hours and are closely analysing CCTV footage. He was last seen near the fire station in Glaisnock Street at 2:30 a.m. His body was found around 5 a.m.
Stuart was believed to have been at a house party in the Netherthird housing estate of his own town until the early hours of Saturday morning.
John Hogg, detective inspector of Ayr CID said: "It is imperative that we find out where he was between 2:30 a.m. and 4:50 a.m., who he was with and why this happened to him.
"We understand that there may have been a number of house parties in the nearby Netherthird housing estate in the early hours of the morning - between 2 a.m. and 3 a.m.
"At this time we do not know if these parties are linked to our investigation or not, so again, any information on that is important. Officers are checking CCTV and carrying out door-to-door inquiries in the area and we would encourage anyone with information to approach them or to call."