Boko Haram: 30 killed in twin female suicide bomb attacks at busy fish market in Maiduguri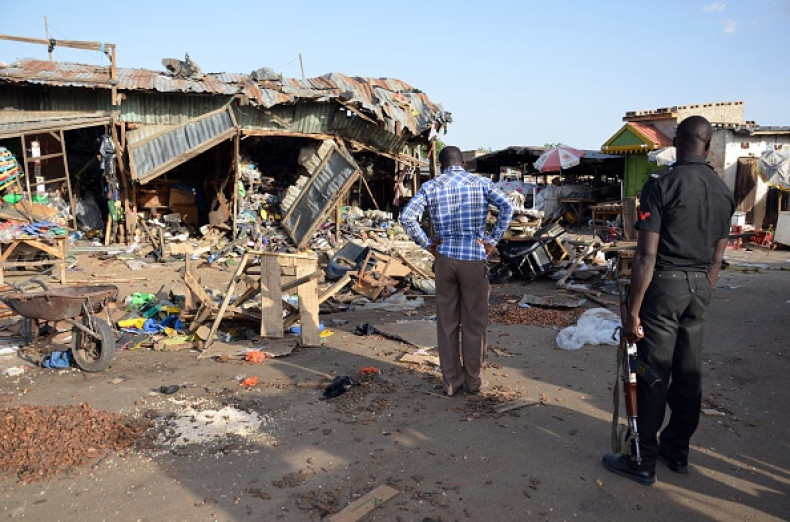 At least 30 people have died in Maiduguri, capital of Nigeria's restive Borno state, after two female suicide bombers detonated the explosives they were wearing.
The incident occurred at a busy fish market in the town, where military operational headquarters were relocated earlier in June to strengthen the fight against terror group Boko Haram.
Who are Nigeria's Boko Haram terrorists?
Boko Haram (recently renamed Iswap) fights against Western influence in Nigeria and aims to impose its version of Sharia law on the country. The group declared an Islamic caliphate in Gwoza, along the Cameroon border, in August 2014.
Boko Haram has raided several cities in the north of the country in a bid to take control of more land.
Three states − Adamawa, Borno and Yobe − have been under a state of emergency since May 2013, due to Boko Haram's attacks.
The group has killed at least 2,700 people since the beginning of 2015. Some 250 have been killed since the beginning of June.
One of the bombers, a teenage girl, waited until vendors started the late afternoon Muslim prayers before carrying out the attack, witnesses told the Leadership.
It is believed that the second attacker blew herself up while she was fleeing the market, killing only herself.
"It was a young lady that blew herself up near the mosque where traders were observing Asr [late afternoon] prayers. She had to wait until when the traders were deep in the prayer session before she detonated the bomb, killing a large number of persons and injuring many," a witness said.
"Some traders said they saw the young girl loitering about shortly before the prayers.
Nigeria
Capital: Abuja
Population: 174,507,53 (2013 census)
Largest cities: Lagos, Kano, Abuja
Major ethnic groups: 21% Yoruba, 21% Hausa,
18% Igbo
Languages: English, Hausa, Igbo, Yoruba
Religion: 50% Muslim, 40% Christian, 10% other
Currency: Naira (N) 1N = £0.0033; US$0.0050
"We heard the second explosion a few minutes after, and it was another female teenager that was seen running before she blew herself up, near BEWAC complex along Baga road. Those that saw her said it was like she suddenly developed cold feet having heard the thunderous sound that came out of the bomb detonated by her mate. Thank God no one except herself was killed".
The blasts occurred one day after 20 people died in another bomb attack at a bus station in Maiduguri. Both attacks are likely to be blamed on Boko Haram, known for kidnapping civilians, mainly women and children, and forcing them to participate in terror attacks across north-eastern Nigeria, where the militants aim to establish an Islamic caliphate.
According to a report by Unicef, the number of suicide bombings involving women and children is increasing in Maiduguri and more suicide bomb attacks have occurred in the north-east since the beginning of 2015 than in the whole of last year.
Borno, the epicentre of Boko Haram's uprising, is one of the three states, together with Yobe and Admawa, that bear the main brunt of the insurgency which has claimed thousands of lives since 2009.
The Nigerian government is being aided by mercenaries and troops from Chad, Benin, Niger and Cameroon in its offensive and has scored some successes since the military co-operation started in February.
President Muhammadu Buhari, a former military chief, vowed Nigeria will do anything it can to defeat the deadly insurgence and find some 220 girls who were kidnapped by Boko Haram in Chibok, Borno state, in April 2014.
Nigeria up close: Check out our Flipboard magazine