Nigeria's military operational headquarters were relocated from Abuja to Maiduguri, capital of Borno state, earlier in May in a bid to strengthen the fight against terrorism in the country.
Who are Nigeria's Boko Haram terrorists?
Boko Haram (recently renamed Iswap) fights against Western influence in Nigeria and aims to impose its version of Sharia law on the country. The group declared an Islamic caliphate in Gwoza, along the Cameroon border, in August 2014.
Boko Haram has raided several cities in the north of the country in a bid to take control of more land.
Three states − Adamawa, Borno and Yobe − have been under a state of emergency since May 2013, due to Boko Haram's attacks.
The group has killed at least 2,600 people since the beginning of 2015. More than 200 have been killed since the beginning of June.
The decision was made by President Muhammadu Buhari, a former military chief, who said the headquarters will stay in Maiduguri until the battle against Boko Haram is over.
Borno, the epicentre of the group's uprising, is one of the three states, together with Yobe and Admawa, that mostly bear the brunt of the insurgency which has claimed thousands of lives since 2009.
As Buhari met regional leaders who are participating in a joint-offensive against the group, IBTimes UK looks at the humanitarian situation in Maiduguri.
Displaced people have lost everything
There are between 1.2 and 1.3 million displaced people in north-eastern Nigeria, without counting refugees who cross borders and flee to neighbouring countries such as Cameroon, Chad and Niger.
Denes Benczedi, spokesperson for the International Committee of the Red Cross (ICRC) Nigeria – which assists displaced people in Maiduguri by delivering aid, medicine and training medical staff – told IBTimes UK that displaced people who arrive at the camps have lost everything.
"They are without clothes, food, belongings and arrive in extremely difficult conditions after being in the bush for days," he said.
"You have two categories of displaced people: Those who arrive in camps and find people who take care of them, and then those who settle where they can such as empty buildings, empty schools.
"They need everything to be able to have... I don't want to say a normal life because it will not be a normal life, but at least to survive."
Benczedi explained that in some cases, displaced people feel secure enough to go back to their communities.
"Situations are different from case to case. For example in Yola, capital of Adamawa state, people have started going back to their communities after they fled three, four months ago. They feel safe enough to go back.
"In Maiduguri, that's not the case for the time being. People stay in the camps for now."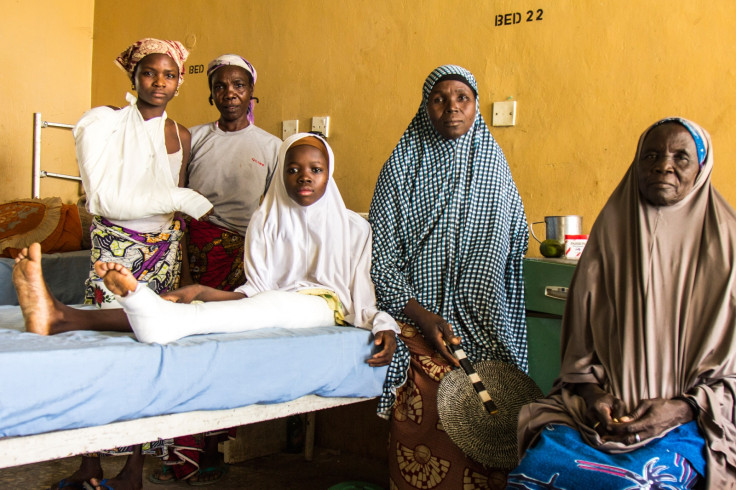 Few journalists access Maiduguri
Unicef communication specialist for West and Central Africa Laurent Duvillier spent five days in May in Maiduguri's Dalori camp, which hosts some 15,000 displaced people.
Nigeria
Capital: Abuja
Population: 174,507,53 (2013 census)
Largest cities: Lagos, Kano, Abuja
Major ethnic groups: 21% Yoruba, 21% Hausa,
18% Igbo
Languages: English, Hausa, Igbo, Yoruba
Religion: 50% Muslim, 40% Christian, 10% other
Currency: Naira (N) 1N = £0.0033; US$0.0050
"There are not so many humanitarian actors [in Maiduguri] and I was struck by the fact that there was zero international media presence, the only person to my knowledge who was there was from the New York Times," he told IBTimes UK.
"Many of the international journalists and agencies cover Yola for logistical and security reasons. Yola is a one-hour flight from Abuja, while Maiduguri is two-day drive and it is an extremely volatile situation."
Earlier in March, two journalists working for Al Jazeera were arrested in Maiduguri and accused of "loitering" in areas where military operations were ongoing against Boko Haram.
Unicef warned that Boko Haram's use of women and children in suicide missions is increasing in Maiduguri and estimated that more suicide bomb attacks have occurred in the north-east since the beginning of 2015 than in the whole of last year.
"Children are not perpetrators because they are not behind the attacks. They are being used, there is child recruitment, there is abduction. We have been talking a lot about the [abducted] schoolgirls from Chibok, but this is the tip of the iceberg," Duvillier said. "We should not forget about all the other women and children who have been abducted.
"People arrive at the camps in the worst conditions, even worse than displaced people we saw last year or at the beginning of this year. The situation is really worrying. We are speaking about a large scale humanitarian crisis that is not improving.
"Nigeria has the highest rate of out-of-school children in the world. Ten and a half million children were out of school as per 2013 estimates, before violence spread to the three states. Some 60% of these children are in the northern part of the country and many of them have never been to school."
As educational buildings have often been targeted by the insurgents, Duvillier explained that parents refuse to send their children to school in the fear that they are exposed to danger.
"There is an atmosphere of fear. What is at stake in north-east Nigeria goes beyond terrorism, it is about access to school, it is about ensuring women have a place in society and the world should pay attention."
Former captives carry a stigma
People who manage to escape after being captured by Boko Haram are at risk of being marginalised by the rest of the community. Women who become pregnant after being raped by the insurgents are often stigmatised the most.
"When people abducted by Boko Haram go back to their communities, they can face discrimination and stigma. It's a real risk," Duvillier said.
"Some of the women who lived under the control of Boko Haram fear that they will not find a husband and they will not be able to rebuild their lives.
"Unicef is working with communities to challenge this problem. We need to work to build trust and confidence that it's possible for the displaced people to rebuild their lives. The conflict is not their ending point. These people are survivors, they survived the conflict, displacement, starvation, shootings and killings, now they have a chance to rebuild their lives.
When contacted by IBTimes UK, government spokesman Mike Omeri said the government is aware of the dire humanitarian situation in the north east.
"The president has not relented in working towards stopping the reasons that give rise to a humanitarian situation in Maiduguri," he said.
"So we have stepped up the efforts and had meetings with regional leaders to ensure the strengthening of the efforts to stop the insurgency.
"The Nigerian National Emergency Management Agency [Nema] has deployed its capacity to Maiduguri and most parts of the north east to bring some relief to the people. They [Nema] are working hard to ensure that the best interventions are made to help people, especially women and children."
In May, Nema took over full responsibility for the provision of foods to displaced camps in Maiduguri.