Islamist militants Boko Haram have snatched at least 500 children from a town in northern Nigeria, according to locals.
Residents in the town of Damasak, freed earlier this month (March 2015) by troops from nearby Chad and Niger, told the news agency Reuters how militants had earlier rounded up women and children.
Damasak trader Souleymane Ali said: "They took 506 young women and children. They killed about 50 of them before leaving. We don't know if they killed others after leaving, but they took the rest with them."
Ali said his wife and three daughters had been seized by the militants, who last year snatched hundreds of young girls from Chibok.
"Two of them were supposed to get married this year," said Ali. "(Boko Haram) said, 'They are slaves so we're taking them because they belong to us'."
When Boko Haram invaded the town they are said to have forced all boys to attend a Madrassa (Islamic school). The boys have not been seen since Boko Haram left, along with many of the women and girls.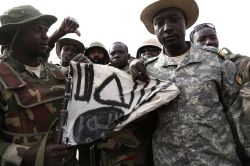 The troops from Niger and Chad found around 70 decomposing corpses at an execution site beneath a bridge on entering the town.
Damasak is now said to be almost deserted with many residents fleeing into the forest rather than risk staying.
"We've seen the worst possible things you can imagine, so after a certain point there was no point in trying to leave," said Souleymane Ali. "They killed all our friends, our family members, so we just submitted ourselves to God."
The delayed elections in Nigeria will now take place on Saturday after being put on hold last month due to the violence, much of it carried out by Boko Haram which wants to establish an Islamic Caliphate and has forged links with Isis. Nigeria's government says troops have now driven out Boko Haram from many of the areas they formerly held.