The 50th anniversary of the death of Ernesto "Che" Guevara has reopened old wounds in Bolivia, sparking a row between the government and army veterans who fought against the Argentine revolutionary.
Bolivian President Evo Morales announced the country had planned a series of commemorations to be held between 5 and 9 October to mark the anniversary.
However, Mario Moreira, an official representing soldiers who fought Guevara's Ñancahuazú Guerrilla force in the 1960s, said veterans will not take part in the events to commemorate "a foreigner who had caused pain and grief to Bolivian families".
"We will not attend the commemorations because we think it has become rather political. How can we pay homage to them [the Cuban guerrillas]?" he told Bolivian newspaper Página Siete.
Guevara played a pivotal role in the Cuban revolution between 1953-1959, in which he was a military leader. Bolivia is a politically ally of Cuba, where Guevara is still venerated by the regime.
"The Bolivian state, which represents the people, has the obligation to pay homage to us, we defended the nation and 59 soldiers gave their lives," Moreira continued. "If Che had won, our country would be different. Thanks to us we have legally constituted governments."
The Bolivian army fought against the Ñancahuazú Guerrilla, which tried to overthrow the Bolivian regime and establish a socialist state, between 1966 and 1967.
Guevara's aim was to establish a 'foco' - a strategic centre whereby paramilitary groups could create the necessary conditions for a revolution – throughout Latin America. However, Guevara and his 47 fighters failed to find the necessary support among local groups and were defeated by the Bolivian army.
Guevara was captured and executed in the village of La Higuera on 9 October 1967, following orders from the then Bolivian President Rene Barrientos. His body was later flown to the nearby town of Vallegrande. A picture of his corpse lying on a stretcher in a hospital would later become the emblem of his demise.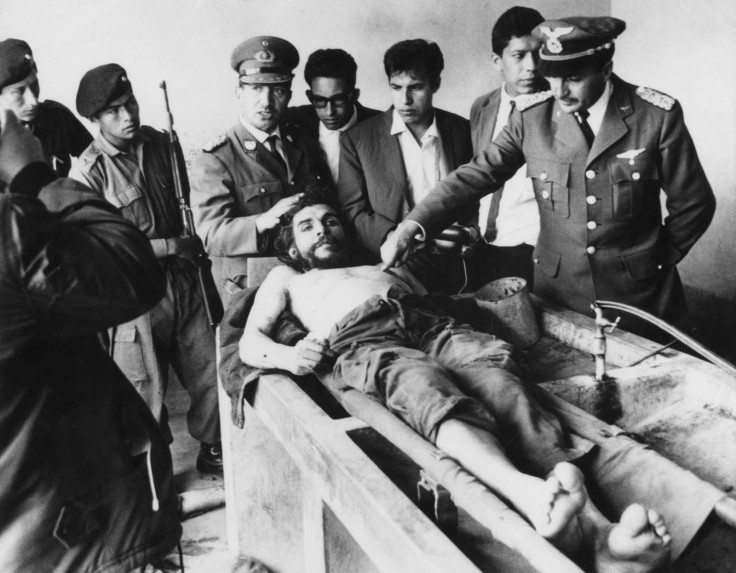 Resentment about the continuing reverence of Guevara decades after his death is nothing new among Bolivian soldiers. Gary Prado, the former Bolivian soldier who captured Guevara, said 10 years ago that there "was nothing of the heroic guerrilla about him".
"The attention Che Guevara has received is totally disproportionate to his reality," he told San Francisco Gate news in 2007.
In a recent interview with the Guardian, the former soldier recalled the moment of Guevara's capture and said: "I felt pity because he looked so poor, so tired, so dirty. You couldn't feel he was a hero, no way."
Prado, who said he did not take part in the revolutionary's execution , said Guevara's killing was "reprehensible", but "justified".
Bolivia's defence minister, Reymi Ferreira, said 2017's events to commemorate Guevara's death should be regarded as a way to "heal wounds".
However, Moreira said that was not the case and added that veterans would attend events to commemorate Bolivian soldiers instead.
The Bolivian embassy in London has not replied to an IBTimes UK request for a comment. However, government officials said they expect veterans to attend planned events, according to the BBC.