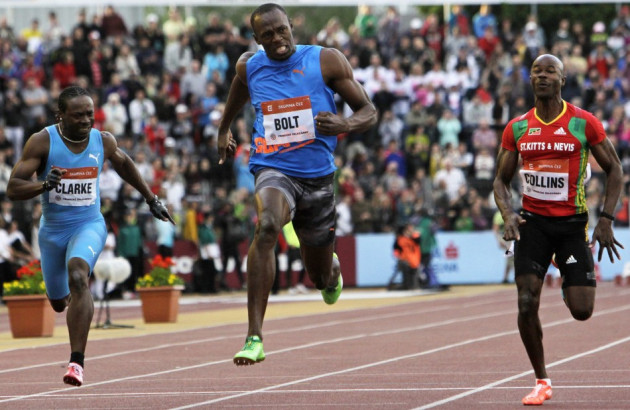 Usain Bolt has vowed to come back stronger at Thursday's Diamond League meeting in Rome after his disappointing performance in Ostrava last week.
The Olympic and World record holder ran 10.04 seconds in last Friday's 100m and attributed a lack of sleep and food for his poor performance.
"I explained to my coach that my legs were not feeling that energetic, probably through a lack of sleep and not enough food," Bolt said on Tuesday.
"I've been trying to get a lot more sleep and eating better."
Bolt's time in Ostrava was his slowest in 32 races outside of championship heats and the first time since 2009 in Toronto that he has failed to break 10 seconds in a final.
Nevertheless, the 25-year-old, insists he is not concerned about his form as he steps up preparations for this summer's Olympic Games in London.
"You never have a good race every time you run," he said. "You have to just put that behind you and move on. It's not a worry. I have a lot more races and the main one is at the Olympics.
"I have set a high standard for myself so I know people like to see me run fast.
"I can't look at it as pressure. People expect you to do certain things - I know I will have my bad races but I have to stay strong and focused."
Bolt also dismissed the suggestion that former Olympic champions Justin Gatlin could steal his crown this summer. Gatlin won the 100m title in Athens in 2004 but subsequently served a four-year drugs ban.
Earlier this season the American claimed it would be good for the sport to see someone challenge Bolt's supremacy over 100m.
"Everybody wants to see great competition," Gatlin said after he won the first Diamond League meeting of the year in Doha with a time of 9.87 seconds.
"They've watched the Usain Bolt show for a couple of years, they want to see someone else in the mix and I'm happy to step up and be in the mix as well."
But Bolt warned Gatlin that there were a number of athletes that posed a greater threat to his crown than the American.
"I don't want to sound rude, but I think Gatlin's had his chance," Bolt said. "He's been on top, but to say 'Get ready for the Gatlin show' is funny.
"There are a lot of other athletes. You can't count out Tyson Gay and Yohan Blake is back, so I think he has a few guys to get past before he should be worried about me."